Rebels SV girls volleyball team bring home the gold
Posted on September 16, 2015 by Taber Times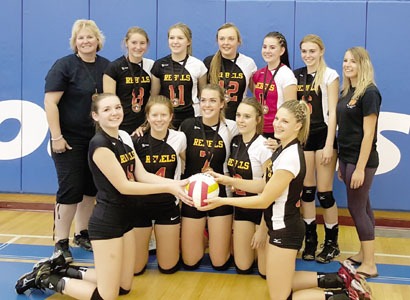 Times photo submitted
By J.W. Schnarr
Taber Times
jwschnarr@tabertimes.com
The W.R. Myers senior varsity girls volleyball team won the early season tournament this past weekend, bringing home the gold in just their first week of competition.
The team went 12-3 in the tournament, going 6-2 in sets in the round robin and winning all of their matches except the last match against Catholic Central High School (5-1).
"We had them, and we just couldn't finish," Coach Dee Schramm said.
The team went 6-1 in sets in the playoffs and went 3-0 in their matches. Their first game, against St. Mary's in the quarterfinal, the Rebels won in two sets, 25-13 and 25-17. They faced off against LCI in the semifinal match, and split the sets 2-1 for the win. They won the first set 25-18, lost the second set 20-15, and came back to win the third set 15-10.
"LCI had some big girls and some strong hitters," said Schramm. "We played some really good defense against LCI. It was definitely a team effort."
The gold medal match was against Winston Churchill, the third time the Rebels faced that school in a week.
"We went up against them three times in a week, and we're 3-0 against them," she said. "But of course, that can always change. You get that confidence, and you never know when they are going to show up. You've got to play each match as if it's 0-0."
Schramm said she has been impressed with how the team has performed in spite of its youth.
"For being a younger team, we're looking pretty good," she said. "I was really impressed with how our girls played this past weekend. At times, it looked like they had been playing together for years."
Standout Hayley LePard shone at middle over the weekend, in spite of spending the last two seasons on the right side and only having two weeks to learn the new position.
"She did a pretty awesome job in the middle on the weekend, for only having learned the position in a week and a half," Schramm said. She noted Natalie Hoyt had a good weekend as a first-year libero as well.
The girls also won their season opener against Winston Churchill High School last Wednesday (Sept. 9), winning in four sets 25-23, 25-17, 17-25, and 25-13. Schramm said there were times when the girls had to dig in and overcome attempts to exploit their defense.
"There were times where they were tough on us," she said. "There were times where it showed us where we have to fix our defense." She noted there were ultimately few surprises from the team, however.
"They are a younger team, so they are rebuilding this year."
Next up, the Rebels travel to Cardston on Wednesday before returning home Thursday against Magrath. Friday and Saturday the team will be taking part in the Lethbridge College Kodiaks High School Invitational. In fact, the next two weeks will be busy ones for the team.
"Volleyball is such a short season," said Schramm. "Provincials are Nov. 26-28. You've got a lot to cram in during three months."
In the meantime, Schramm said the team will be working on proper diet for their games, saying she saw a number of players who simply ran out of gas in the late stages of the tournament. She said they will also be working on their mental toughness.
"Lots of times, you are physically exhausted," she said. "You have to mentally push through that. When you play that kind of volleyball all day, your body and your mind has to be prepared for it. These girls have done everything I've asked them to do in the last two weeks, so I'm sure we will be able to achieve those goals, too."