Two locals being considered for Canada's national rugby team
Posted on September 9, 2015 by Taber Times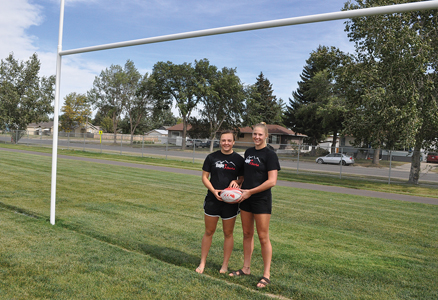 Times photo by Greg Price
By Greg Price
Taber Times
gprice@tabertimes.com
As girl's rugby in the area continues to make inroads, two local athletes are now firmly entrenched on the national team's radar.
Two girls on the W.R. Myers Rebels rugby team competed as part of provincial teams this past summer and their stellar efforts have meant they are now on the watch list for Canada.
Keegan Brantner (U18) and Genna Wright (U16) have now made the long list for the U18 Canadian national girl's rugby team.
The duo gained national attention by the Alberta U18 team playing in Saskatchewan and British Columbia, with the U16 Team playing in a tournament in British Columbia.
"I can definitely boost the mood of a team. I just like to be a team player and help where I can," said a modest Branter, of the intangibles that helped her make the national team long list.
"I'm definitely a yeller on the field and let people know where i am," said Wright with a slight chuckle. "I like to be in charge."
W.R. Myers Rebels girls rugby team co-coach Andrew Llewelyn-Jones was glowing in his praise of what both players have meant to girls rugby in the southern Alberta area.
"Both of those girls are a credit to our community because they have done so well for Rebels rugby and we are proud of them as coaches. It is the enthusiasm and commitment they have both shown."
"Keegan is a team leader and she led the Myers senior rugby program with her play and intelligence on the field playing as a forward."
"Genna played for the JVs this year and she was outstanding."
"There were not too many players who could match Genna. She was our top try scorer, she scored well over 100 points in tries," said Llewelyn-Jones.
"The Canadian national (women's) team is looking to develop its players. The fact we have two girls from Taber and only four girls from Alberta (on the long list), that puts us on the map as far as rugby is concerned in a major way."
It is that enthusiasm that shines through in the dynamic duo's smiles as they talk about the game they have grown to love which is still in its relative infancy at W.R. Myers.
"It's the intensity of the game. It's the highest intensity of any sport I've played. It's also the environment of the players and coaches that has been so welcoming," said Brantner who has also competed in hockey, golf, cross country and track and field, and will be trying out for basketball.
"It's the same thing for me," added Wright.
"The dynamics of team rugby is just awesome. It's a big family and it's different than any other sport where you have to mesh so well."
Being part of an international rugby tour to Wales earlier this year and seeing how Canada has been making further steps into women's rugby, the duo are proud to be part of that forward momentum.
"It's definitely growing, and you see at the University of Lethbridge program progressing with a new coach and the team is growing here every year," said Brantner, adding mini rugby is popping up all over the province where kids play rugby all season long.
"That Wales tour was crazy. They've been playing since they were seven years old and I've only played since Grade 9."
Keegan Brantner and Genna Wright will travel to Ontario Oct. 5-11 for evaluations and then regional camps in January for Team Canada consideration.
"We just want to have a great experience and do Taber proud," said Wright.