HS Rebels manhandle McCoy
Posted on September 2, 2015 by Taber Times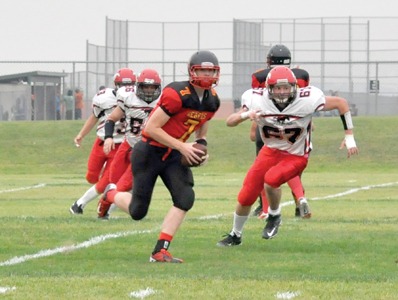 Times photo by J.W. Schnarr
By Greg Price
Taber Times
gprice@tabertimes.com
W.R. Myers Rebels football team added to the revelry of Cornfest this past weekend with an utterly dominating performance over McCoy on Friday at Ken McDonald Memorial Sports Park.
That was the site of a 42-2 dismantling by the Rebels who start off its gridiron season with a big exhibition win.
"We usually play McCoy at the beginning of the year as a warm-up game and it's usually a 10-point game. We've won the last few years," said Adam Hughes, head coach of the W.R. Myers Rebels football team. "We have a lot of athletes this year. I've been around for five years now, and I think this is the most athletic team I've coached. It's really exciting to see."
With the ability to break a big play at any time during a game with that athleticism, the Rebels showed just that ability early in the contest, wiping out any momentum or hope McCoy had in making a game of it.
"Football games always sort of seem to hinge on four or five big plays. The real TSN turning point of the game was in the first quarter. We were up 7-2 and they were driving on our 20-yard line and it looked like they were probably going to score," said Hughes.
"Tate Platt intercepted the ball and returned it to their 20-yard line and almost returned it the whole way. After that, it ignited our boys and gave them a lot of confidence, scoring on that drive. We never looked back."
It marked one of three interceptions the Rebels were able to record in the first half alone in a contest overall that was saturated by big plays and big contributions throughout the lineup.
"Brandon Szigli had a pick six and Brad Marsden had 120 yards receiving, so Blake Bullock had a really big game passing the ball, throwing for three touchdowns," said Hughes. "Evan Harkness had 80 yards rushing. It' fabulous to see this. We knew we had a couple of really good Grade 10s in Wyatt (Thurston) and Evan. But even guys like Orion (Schnarr) came in and played well. Granger (Leth) came in and played really well, too. It was a real team effort, which is what I took away from this game. We had some sick kids battling the flu, we had kids battling the smoky conditions in the air. Theron Andrus came in and played a lot of time. From the rookies to the veterans, it was a real team effort where there's no one that I can single out and say they were the best by far."
Giving up only a conceded safety for field-possession concerns, defensive co-ordinator Jason Jensen was pleased with the dominating defensive effort the Rebels gave.
"I was really impressed with how the defense functioned as a unit, right from the get-go. Any time you are able to generate seven turnovers, you've got to be happy with that. We have a real mix of experience levels starting on that side of the ball, but it helps that virtually all of them have played in my system before at the bantam level, so they could kind of hit the ground running," said Jensen.
"We had interceptions from senior safety Colton Terry, Grade 11 cornerbacks Bradley Marsden, and Tate Platt, and from rookie outside linebacker/cornerback Brandon Szigli. Rookie defensive lineman Wyatt Thurston was in on two sacks, Grade 11 linebackers Thane Buckingham and Ashton Bekkering were absolute forces containing the run and consistently getting after the quarterback, and senior linebacker Taylor Blacquier was all over the field, getting in on tackles. If we can keep getting this kind of production out of every age level, I am pretty confident that we are going to have a great season."
With a relatively smaller roster of 31 players without a lot of veteran Grade 12s lining the roster, health will be paramount for continued success on the Rebels as the team was able to emerge from Friday's contest relatively unscathed.
"We only had one minor injury, other than that we were healthy. Hopefully, that continues. We are a small school with smaller numbers," said Hughes. "I've told people over the weekend, if we can stay healthy, the sky is the limit. Knock on wood."
W.R. Myers Rebels football team's next game is this Friday at home against Catholic Central Cougars. Game time is 7 p.m. at Ken McDonald Memorial Sports Park.
"Catholic Central has run the same type of offence they have run for the last six or seven years, so we know exactly what we are going to get. It's going to be a really big test and I'm excited to see how we'll do," said Hughes.
"We are going to give them our best shot. They are a big school and it's always good to get these tests. They've won a couple of provincial titles in Tier II over the last five or six years. They are one of the better teams in the province."