Muller takes third place at provincials
Posted on August 26, 2015 by Taber Times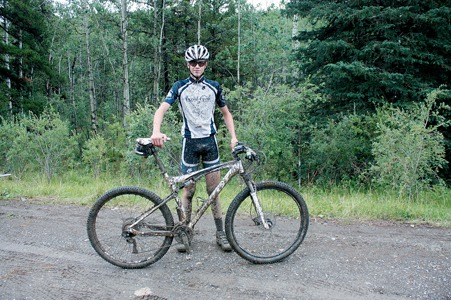 Times photo submitted
By Greg Price
Taber Times
gprice@tabertimes.com
Another challenge, another impressive showing for Taber athlete Kaleb Muller.
After being the overall stage winner for Category 5 Omnium at the Tour de Bowness in cycling, Muller competing in Category 4 the following weekend, and still finished in second place in that race, a mere half second behind the eventual winner.
On the Aug. 15 weekend, Muller traveled to Bragg Creek for mountain biking provincials and took the bronze medal, finishing in third place.
"It went well. There were 26 people (in the race), said Muller of his latest medal moment. "It was a 5.6 lap course and i had three laps. It was a little over 16 kilometres."
Using cycling as a cross trainer for his speed skating, Muller has taken to the sport like a fish to water with a string of strong finishes in his early career.
Late last month, he won a 65-kilometre road race in Canmore, winning the provincial title in the process. He won that road race by a staggering 42 seconds, averaging over 38 kilometres per hour.
"It's sort of the same thing with the same type of competition as speed skating, just on different terrain with a different atmosphere," said Muller.
With half the course a climb and the other half a descent, Muller knows exactly where he needs to improve in his overall game of mountain biking cycling.
"The climbing is really where I excel. I have a good power to weight ratio and so I can put a lot of power into the pedals. The way I'm built, I'm good at climbing," said Muller. "But since I'm pretty new to mountain biking, so descending is harder for me and a lot of people catch up then. I have to work extra hard then. It takes a lot of practice to get that fine tuning in the descents."
The cycling season is now over in which Muller added he is already excited to get a start for next season in which races start in March.