Bantam Rebels ready to defend title
Posted on August 26, 2015 by Taber Times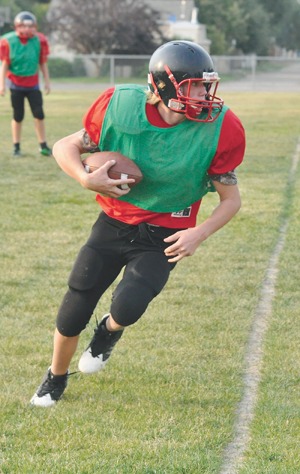 Times photo by Greg Price
By Greg Price
Taber Times
gprice@tabertimes.com
Coming off a Division III championship last year, a jamboree this weekend will give a glimpse into what the 2015 version of the Taber bantam Rebels football team will look like going forward.
The Rebels will have a three-game jamboree in Lethbridge with controlled scrimmages, involving the Lethbridge Bulldogs, the Coaldale Pride and the Lethbridge Cougars.
"I think we will have around 24 kids, which, in a perfect world, we would have a full scrimmage of offence and defence in practices if everyone shows up," said Garrett Simmons, head coach of the Taber bantam Rebels football team. "An encouraging thing is we have three or four new kids to football that we weren't expecting that are all fantastic at football from what we've seen early in the first couple of weeks. That's really added to our optimism so far."
With limited numbers and limited size, the biggest challenge for the Rebels this year Simmons added will be trying to keep the linemen fresh.
"We have some pretty good linemen in our system this year, but it will be a matter of keeping them fresh as we will have to play a lot of them both ways with our limited size," said Simmons.
"It will also be about using our speed on offence and defence to our full advantage and that includes the line, utilizing that speed in trying to get to the second tier on the defenders quickly. We will have to use our speed to attack on both sides of the ball. On defence, if we can swarm to the backfield and gets plays broken up with our speed and quickness before they get any momentum, that will be key."
There are a lot of returning players from last year's Tier III championship team, and Simmons said he will be leaning on both as starters and providing veteran leadership for the rest of the team.
"We have a lot of starters on offence and defence returning, and at some key positions. There's our quarterback, Mike Sawatzky, and our slotbacks, Brett Andrus and Corny Froese, and all three of those kids will play big roles on defence, too. It's not too often you have a returning starting quarterback." said Simmons.
"We will be looking to them for some off-the-field leadership and some great on-the-field performances."
As with any jamboree with controlled scrimmages, it's a feeling-out process to see which players fit where for maximum production on both sides of the ball.
"It's always tough the first couple of weeks of practice because you are bringing the new kids to bantam up to speed with your systems. We do have the benefit of having a lot of these kids play in this offence before, so it's not totally new," said Simmons.
"We will play these three games, get some tape and watch how we played, and point things out both positive and negative and build from there, because we don't play our first regular-season game until Sept. 16 (versus Lethbridge Coyotes). We definitely want to make the most of this jamboree and learn as much as we possibly can."