Taber players help power way to championship
Posted on August 19, 2015 by Taber Times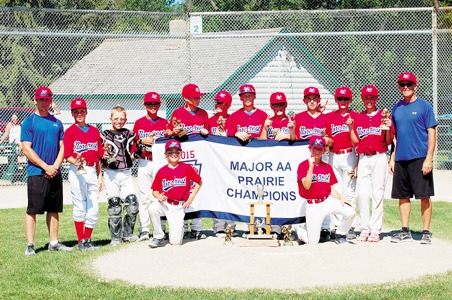 Times photo submitted
By Greg Price
Taber Times
gprice@tabertimes.com
The Norcrest Little League team which includes players from Taber and Vauxhall, dominated the Little League "AA" Major Prairie Championships in Regina during the August long weekend.
Norcrest blew through its competition at the prairie championships, winning all six of its games in the tournament. With the mercy rule, no game went longer than four innings.
Norcrest takes players from Coaldale, Enchant, Vauxhall and Taber, and the all-stars from the Norcrest house baseball league were "AAA" battle tested leading up to the championships earlier this month.
"At the end of the day, we played in a lot of "AAA" tournaments leading up to the championship, and I'd say we worked a lot harder than any other team in that tournament," said Cam Cleland, head coach of the Norcrest baseball team. "We practised twice a week and played every weekend. We also had a portion of the kids who have been playing baseball since the middle of April."
Norcrest took its lumps at times in those "AAA" tournaments where its all-star teams have a month-and-a-half head start in playing with each other and draw from a much larger area to get players from. But one does not get better at their craft playing against inferior competition, and Norcrest took those lessons to the "AA" level which was its regular placing and cruised to the championship in Regina.
"Being just a rural team, we took some heavy hits along the way. But, you face tougher pitching, pitchers with two or three different pitchers instead of just a fastball and lazy curveball," said Cleland. "Eventually, we honed our skills to that, and then with exception of our "AA" championship game against Lethbridge, we faced pitchers who only had fastballs and changeups, which was not enough to beat our batters. We were middle of the road in most "AAA" tournaments we played and you could see that improvement as the season went on."
Cleland was aided by his oldest son Colyn in helping coach the team. Not far removed from playing elite-level baseball himself, proud dad Cam said his son's help was immeasurable with the team this year.
"He had four years in the Spurs program and a minor baseball career with some good coaching," said Cleland. "Colyn did a really good job as far as advancing kids and taking them out of their comfort zones, and learning to play baseball better than just good enough. It's the same as any sport be it baseball, hockey, basketball or football, if you commit and do the work, you usually build a pretty good team. We committed, and we were just that much better than the competition "
There were 15 teams at the championships ranging from Calgary, Edmonton, Lethbridge, Medicine Hat, Regina and Moose Jaw.