Numerous Vipers qualify for provincials
Posted on August 12, 2015 by Taber Times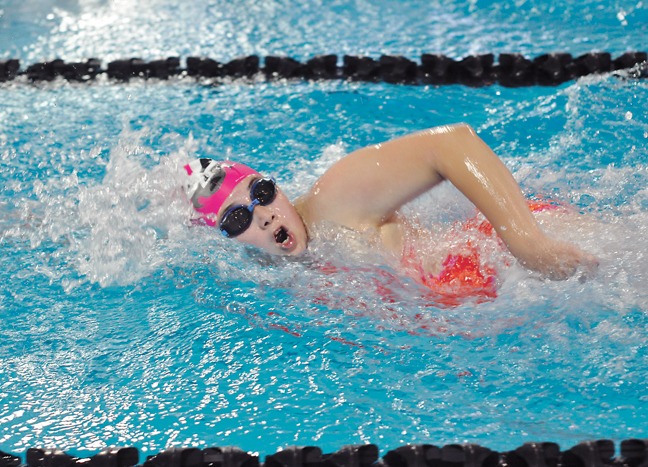 TIMES FILE PHOTO
By Greg Price
Taber Times
gprice@tabertimes.com
There will be at least nine locals who have qualified to Alberta Summer Swimming Association provincials this weekend in Edmonton after strong showings at regionals in Lethbridge this past weekend.
"We had two kids swim at provincials. To qualify for provincials, you swim your event and the top two times from each event go to provincials," said Teri Cook, head coach of the Taber Viper Swim Club. "Then the next fastest heat out of the entire province gets wild carded," said Cook, adding even more Vipers may qualify for provincials after qualifying wild card times are calculated today. "We had kids peak at this swim meet. Me and the other coach were blown away about how good these kids did."
Jessica Anderson dominated at regionals, getting three first-place times for 50-metre backstroke (40.35), 100-metre fly (1:28.77), and 100-metre backstroke (1:25.43) for her age group.
Isabelle Bennett qualified for provincials by getting second-place times in 50-metre fly (34.68), and 100-metre IM (1:22.03).
Emily Carver qualified for Edmonton by earning second in her 50-metre fly event (54.13).
Rebecca Carver earned first place in 25-metre breaststroke (31.90) and took second in 50-metre breaststroke (1:07.12).
Chance Cook was top swimmer in his age category for both 50-metre freestyle (28.09) and 100-metre freestyle (1:05.42).
Emma Fenske clocked in a top time among her competitors for 50-metre backstroke (1:02.48).
Another dominating performance was had by Kelsey Garner for 15-to-17-year-old girls. She was top swimmer at regionals for 100-metre freestyle (1:22.41), 200-metre IM (3:24.85) and 50-metre backstroke (41.59).
Renae Saunders qualified for provincials by being top swimmer in her 100-metre fly (1:15.29) and 200-metre IM (2:48.55) events. She also clocked in second place for 50-metre fly (32.50).
Darci Wright got first-place times in 100-metre freestyle (1:08.88), 50-metre freestyle (31.04), 100-metre IM (1:24.44) and 50-metre fly (33.43).
"Overall, every swimmer that went did really well compared to their own skill level with their personal-best times," said Cook. "For those that qualified, we have quite a few kids that are up there in the standings who will have a really good chance in bringing home a provincial medal. For regionals and provincials it's really tough. You don't have to be just physically ready for it, but mentally as well. You can't let things get in your head and our kids did awesome (at regionals). They didn't let anyone or anything get in their head."