Muller tops Category 5 field at Tour de Bowness event
Posted on August 12, 2015 by Taber Times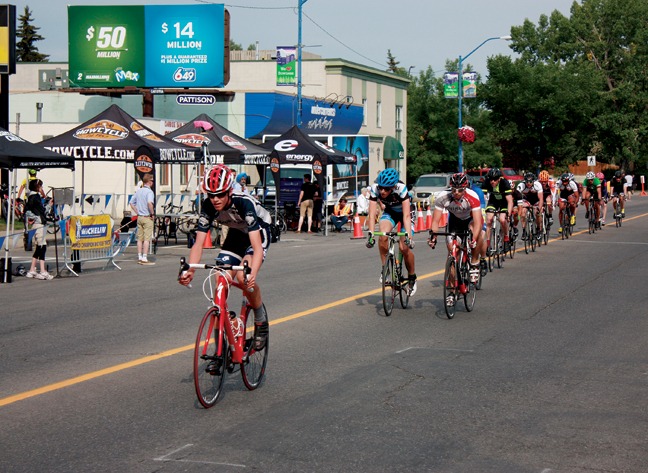 By Greg Price
Taber Times
gprice@tabertimes.com
Different sport — same level of dominance.
Taberite Kaleb Muller has made his mark with several medal moments in St. Mary's School athletics and in the world of speed skating. Mark another sport in cycling.
Building the passion for the sport while competing in the Southern Alberta Summer Games, Muller decided to take it one more step and compete in the Tour de Bowness in Calgary on the August long weekend.
Competing in Category 5 Omnium, Muller was the overall stage winner.
He placed first in the road race of 88 kilometres, averaging a speed of 37.4 kilometres per hour. He placed first in the hill climb and placed second in criterium.
"That's why I like cycling so much, it's the same type of competition (as speed skating). For cycling, it depends more on the terrain," said Muller. "If it's a hill, I know I can attack on the hills and that's where my strategy plays a lot, is on the hills. On flats, you have to stick with the pack a bit because it's pretty hard cycling by yourself with the wind."
Two weeks prior, he won the 65-kilometre road race in Canmore, winning the provincial title in the process. He won that road race by a staggering 42 seconds, averaging over 38 kilometres per hour.
"Most people who speed skate are involved in cycling as well. It's a great cross trainer," said Muller. "I really love it. I've been wanting to get into competitions for a couple of years now. I enjoy cycling as much as I do speed skating."
The dominance in those races bumped him up to Category 4 competition, where his race this past weekend placed him in second place,  a mere half second behind the winner in the time trial.
"Once you start winning races, you accumulate points, and once you get a certain amount of points, you move up a category," said Muller.
"I fit into Category 4 for sure."
Muller will now switch his focus to mountain-biking competition this weekend in Bragg Creek for mountain biking provincials. Having competed on so many different elite stages in various sports, Muller is confident he will remain focused.
"I'm pretty familiar with competition, so I don't really get nervous anymore having been at it awhile," said Muller.
"What I did before was road, so now it will be a totally different ranking for mountain biking. The road season is pretty much over now with three major competitions."