U16 team brings back bronze
Posted on August 5, 2015 by Taber Times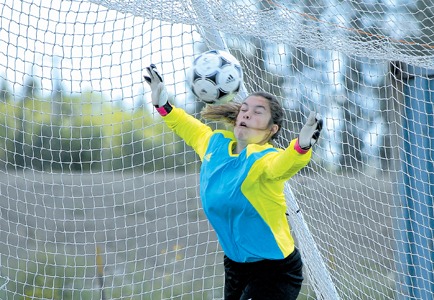 Times photo submitted
By Greg Price
Taber Times
gprice@tabertimes.com
Taber U16 girls soccer team had a medal moment at Tier IV city provincials in Edmonton last month.
The squad was able to take home the bronze medal amid some controversy that pushed them to the bronze-medal match.
"The girls played quite well the entire weekend," said Andrew Llewelyn-Jones, coach of the Taber U16 girls soccer team.
The Taber team suffered a heartbreaking 1-0 loss right off the bat to Edmonton2 in the team's first match on a questionable call.
"It was such a close game. I felt we controlled the game in the first half and in the second half they came on a little stronger," said Llewelyn-Jones.
"They got a free kick and it shouldn't have been a free kick. Even at that, it should have been called an indirect kick and they gave a direct free kick. There was some controversy there. Had we tied 0-0 that game which is the way it was heading, we would have been in the gold-medal game as opposed to bronze."
Nevertheless, the U16 girls team rebounded nicely with a 6-1 win over Calgary1.
"We dominated the game," said Llewelyn-Jones.
Taber U16 girls soccer team then proceeded to earn the bronze medal with a penalty shoot-out win over Calgary2 as the score was 0-0 in regular time.
"Again, a game we controlled, it was just we were coming up short in getting an actual goal that game," said Llewelyn-Jones, adding the team dominated in the shoot-out 4-1.
"The girls were happy getting a provincial medal, but were also thinking about what could have been. The team that beat us 1-0, won the gold medal with a 2-nil win. We were very close. The girls got a medal and did Taber proud. A little poor refereeing in the first game and it could have been a little different, but it is what it is."