Spurs struggle at State
Posted on August 5, 2015 by Taber Times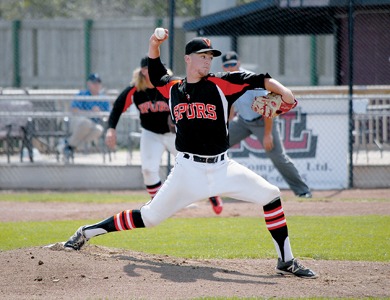 Southern Alberta Newspaper photo by Garrett Simmons
By Greg Price
Taber Times
gprice@tabertimes.com
Errors undid the hopes of the Vauxhall Spurs during its State tournament run in Kalispell this past week, ending a season in which the Spurs proved they could play with anyone.
"It was bizarre, we played so well in districts (earning the Northern District championship), and then we went down to State which what was our goal all year," said Joel Blake, head coach of the Vauxhall Spurs baseball team. "We come down and we make 13 errors in two games which showed we didn't have the stuff to win."
The error-filled State A resulted in two straight loses, beginning with a tight 10-9 loss to Kalispell last Thursday in a game the Spurs were still very much in despite giving numerous free runs to the hosts.
"We had no business being in our first game, but we still battled. We had the lead late, we gave up the lead late," said Blake. "We had the go-ahead run on second base with one out and the tying run on third, but we couldn't cash them in."
On the mound for the Spurs in its opening game was workhorse and ace Jalen Lane. Taxed from extensive use in the district tournament, Lane showed a bulldog mentality at State, just like he did all season long.
"We threw phenomenal the first game and we hit pretty well," said Blake. "Jalen's been our guy all year and you could tell he was a little run down and didn't have his best stuff, but he battled for us. He only gave up two earned runs."
The second game, the Spurs were mercy ruled 13-0 by Helena on Friday, a squad the team handled easily at Helena's home tournament earlier in the year.
"There were highs and lows all year. The thing (Zach) Rhodes (assistant coach) and I have preached since last year is to try and minimize those highs and lows. Those roller coaster rides can just kill you," said Blake.
"You can't do anything like that as we try and relate it to life too. In baseball, a steady hand is so essential because it's such a hard game mentally. You have to find a way to be the same guy and the same team every day and we struggled with that. I understand they are teenagers, but if we want success next year, and we have a lot of good, returning kids, we can't have these highs and lows. It's too mentally exhausting for a team over a stretch of 50 or 60 games in the summer."
As Blake gauged the tournament which saw the Lethbridge Miners lose in the semifinals by two runs, a squad the Spurs beat to earn the district tournament, there was no one heavy favourite at State in Kalispell, Montana.
"Same as districts, it was anyone's ball game and I'm not just saying that. We just didn't take care of the baseball," said Blake.