Taber dominates at U12 provincials
Posted on July 29, 2015 by Taber Times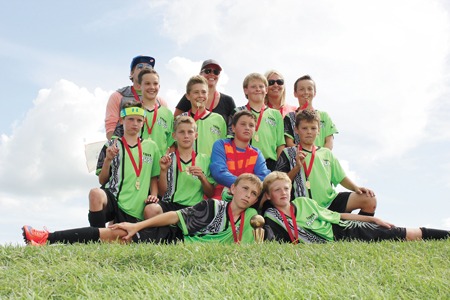 Times photo submitted
By Greg Price
Taber Times
gprice@tabertimes.com
It was an offensive barrage for the Taber U12 boys soccer team, as the squad managed to bring home gold at Tier IV Cities Provincials in Edmonton over the weekend.
Trailing only once by a single goal in its whole tournament run while potting 24 goals over four games in the process, Taber beat Edmonton2 6-2 in the gold-medal final.
"The Edmonton1 team that was hosting it that we beat earlier 5-2, they were hoping to win it all and they never saw us coming. Edmonton1 I don't think had lost all year and we heard Fort St. John hadn't lost all year either," said Taber U12 boys soccer team co-coach Wendy Millo.
Taber's tear to provincial gold also included a 5-1 win over Calgary, with the most drama coming in the semifinal with a 2-1 win over Fort St. John.
"Being that we don't normally play in the rep league all spring and summer long, it was hard to know where we fit in. Maybe we could have competed in Tier III, but you never know, we had to declare before we even played some of our games," said Millo. "We should be playing in rurals, but we went up to cities because we knew we had some strong athletes."
Given usually scores are lower and tighter at higher levels of elite soccer, Millo attributed a full team effort to Taber's overall dominance at provincials.
"We were strong in all aspects of our game, but the one thing was we stepped it up and we were first to the ball most of the time and dominated, dictating the flow of the game," said Millo. "Our defence was solid and obviously our attacking offence was pretty good to get that many goals in the net. We had some strong corner kicks that we have worked on and we capitalized on that. The last game, with our strong kickers, we took some longer shots that we were able to bury going into the net."
While highly skilled, the Taber U12 boys soccer team also proved well conditioned, having the fewest players of any team they competed against at provincials.
"On Saturday we had 12 kids and on Sunday we had 10. We only had two subs for the semifinal and the final," said Millo. "Every other team had at least 15 kids with a full line up of subs."