Spurs are district champs once again
Posted on July 29, 2015 by Taber Times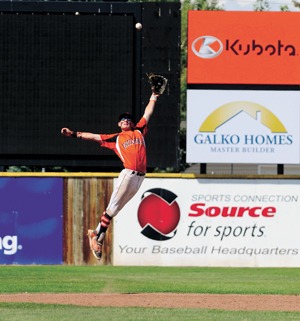 Southern Alberta Newspaper photo by Dylan Purcell
By Greg Price
Taber Times
gprice@tabertimes.com
In an Montana American Legion 'A' Baseball season in which the Vauxhall Spurs were searching for its identity all season long, the team found a very favourable one this past weekend at Spitz Stadium in Lethbridge — North District champions.
"I don't really know how to compare it to last year (also a district championship for the Spurs). Similar I guess because our kids came ready to compete which was good to see," said Joel Blake, head coach of the Vauxhall Spurs baseball team that features Taber players as well.
"It was just as frustrating as it was gratifying because this was the level we tried to get at all year. It was better late than never. They came ready to play and they took care of business. They hit the baseball, they threw the baseball extremely well and there was only really one game where we booted the ball around, outside of that we played good defence. We had good energy on the bump and everyone was in it , it was good to see."
A veteran-laden team that was searching for its groove all season as it hovered around the .500 mark, made its mark at districts, playing some of its best baseball of the season, once again peaking at the right time just like it did in 2014.
The Spurs set the tone early as the team dominated the Fort Macleod Royals 14-3 in its opening district game on Thursday in seven innings, thanks to a solid pitching performance by Lane.
"They had one really good arm, but didn't start them," said Blake.
The win against the Royals led to a highly-anticipated battle against top-seeded Havre which surprisingly didn't live up to its expectations as the Spurs cut through its opposition like a hot knife to butter.
"We threw Dallas McGrath and we came out and absolutely pounded the baseball. We put up 21 runs on 24 hits," said Blake of the 21-9 demolishing of Havre.
"We smacked the ball around the yard. It was very impressive. They threw what was in our opinion their best arm, because their ace we had taken care of pretty easily. They started their No. 2 and had beaten us before this year. We made the adjustments. I told the guys you can't take until the second, third time through the order to get your adjustments with these pitchers, we've seen these pitchers before. You have to make the adjustments right off the hop, and to their credit they did with the way we pounded the baseball."
The Spurs lone district blemish came on Saturday in which the team lost to the Lethbridge Miners 12-11 on Saturday night, surrendering two runs in the bottom of the ninth to lose in an error-filled game.
"We battled, but it was heartbreaking. It was the second time they've walked off on us in their home park. But, we had no business being in that game, making six errors and we gave them an easy five runs. We play defence and we win that game with no drama," said Blake.
The game forced the Spurs into the losers bracket, making them have to win an extra game in order to become district champions which meant facing off against Fort Macleod once again. The Spurs used Lane once again on the mound which resulted in a 1O-0 shutout in seven innings on Sunday.
It set the stage for a rematch with the Lethbridge Miners in the district championship.
By reaching the final, both teams earned a berth into the State tournament in Kalispell, Montana which starts Thursday. Nevertheless, bragging rights and competitive drive were at stake in the contest.
"It's a big difference between the district champs and runner up. The kids took care of business and they were reminded how Lethbridge has made us feel walking off on us twice this year," said Blake of the eventual 9-5 district championship win over the Miners.
"Jalen Lane was an absolute bulldog and he wanted to start that second game too. I said no way are you starting, but we will look at you in relief and it was a close enough game that we went to him again. Kaden Fujita started that game and gave us five strong innings."
The Spurs are now off to the Montana State tournament in Kalispell in which Vauxhall plays the hosts on Thursday. If the team manages to win it all, they will compete at regionals in Logan, Utah.
"I hope we can build off this past weekend, because I think they are finally starting to realize what we've been saying all year. We have a very skilled ball club," said Blake.
"It's not easy in the summer season because we get these kids for three months, four months max and you're trying to make up for lost time because we don't have them all year. It's tough to form an identity in a couple of months and coming down the home stretch we're finally starting to figure it out."