Taber Viper Swim Club heading down home stretch to regional competition
Posted on July 22, 2015 by Taber Times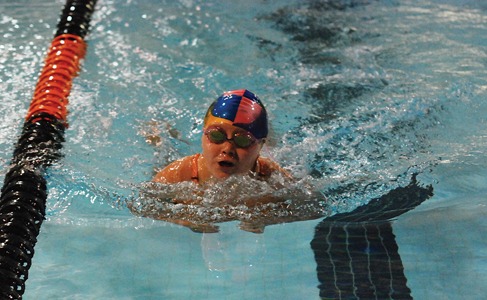 Times photo by Trevor Busch
By Greg Price
Taber Times
gprice@tabertimes.com
There were two swimmers from the Taber Viper Swim Club that earned aggregate medals at the Crowsnest Pass Piranhas meet over the weekend as the club comes down the home stretch to provincials.
Given the meet is one of the furthest away from Taber in the summer swim season, head coach Teri Cook added it is always a crapshoot to know how many swimmers will attend the meet.
"We had 13 swimmers. It's really tough because it's so far away. Sometimes we have a lot of kids. But that's low compared to the average we usually have go to the meet," said Cook.
Darci Wright earned the silver in her 11-and-12-year-old girls category. She finished in first place in both the 50-metre freestyle (33.99) and 100-metre freestyle (1:16.17.). She also earned seconds in 100-metre IM (1:27.99) and 50-metre fly (35.51).
Genna Wright also took a silver medal for her efforts in 15-to-17-year-old girls.
She had a trio of first-place finishes which included 50-metre backstroke (36.67), 50-metre fly (35.09) and 100-metre IM (1:25.23). She also earned second place in 100-metre freestyle (1:11.31).
Beyond the aggregate medals were also swimmers tightening up their races and pushing themselves in various events.
"We only got two disqualifications in all our races in our kids' swims, which is awesome. We only had two kids that didn't get personal best times on swims. We had an insane number of best swims," said Cook.
Other top-three finishes included Emily Carver getting first in nine-and-10-year-old girls 50-metre fly.
Rebecca Carver competed in seven-and-eight-year-old girls and took second in 100-metre IM (2:11.44). She also finished in third for 25-metre freestyle (24.02) and 50-metre backstroke (59.92).
Kelsey Garner's races for 15-to-17-year-old girls included first in 200-metre IM (3:30.43), second in 200-metre freestyle (3:02.98) and third in 50-metre breaststroke (47.93).
Danielle Wright took third places for both 100-metre freestyle (1:16.63) and 200-metre freestyle (2:55.87).
Taber Viper Swim Club is off to the Fort Macleod Sharks and Nanton Marlins Invitational Swim Meet this weekend, the last competitive meet before regionals in Lethbridge Aug. 4-7.
"Cross my fingers, I expect a pretty big turnout. This is a very important meet, it's the last time you get to swim your events to see how you stand with your times in the province and make sure everything is fine tuned," said Cook.