U16s earn defensively-stifling gold
Posted on July 8, 2015 by Taber Times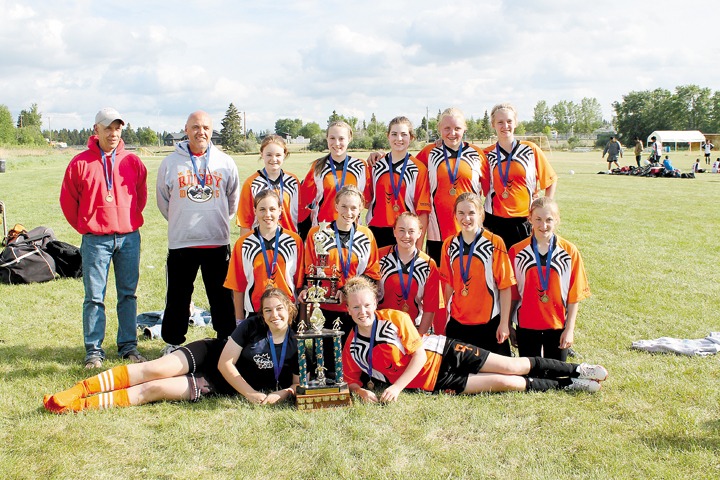 TIMES FILE PHOTO
By Greg Price
Taber Times
gprice@tabertimes.com
In its quest for provincial glory, the Taber U16 girls soccer team had a heck of a warm-up tournament late last month.
The team went 4-0, in dominating fashion to the gold medal in Millet, celebrating the tournament's 20th anniversary in style. There was a Taber U18 team that participated in the tournament five years ago and came away with bronze.
The team was defensively suffocating, surrendering a mere goal along the way. Taber won its opening game 2-1 over Sherwood Park. The team then proceeded to blank a team out of Edmonton 3-0 before blanking host Millet by the same 3-0 score.
Taber U16 girls soccer team then squared off against Sherwood Park once again for gold-medal bragging rights and delivered a 3-0 win.
"It was an overall team effort. The way we competed at midfield, if you control the midfield and the defence is strong, that's where you win games," said Andrew Llewelyn-Jones, head coach of the Taber U16 girl soccer team. "On offence, we have three good goal scorers on the team, once your midfield provides them with the opportunities, they went from there."
Llewelyn-Jones noted all four games were quite competitive despite the shutouts, but Taber possessed the offensive finish the other teams could not muster.
"The final, Sherwood Park competed quite well, but they just didn't have goal scoring. They had opportunities a couple of times, but we had a strong goaltender," said Llewelyn-Jones. "It was great to see, because this is the first time this squad played any competitive games together. That was pleasing for me to see how they got stronger as the tournament went on. The first game, it was 2-1, but we definitely had more chances to score more goals. But it was the team finding how to play with each other and as the games went on, we got stronger."
The U16 team will continue to practice together with some players competing at the Southern Alberta Summer Games in Claresholm from July 8-11. Llewelyn-Jones is also trying to set up some games in Calgary to get into competitive game shape.
"We are going to continue to stay sharp," said Llewelyn-Jones.
Taber U16 girls soccer team will be competing at provincials in Edmonton from July 24-26.