Taber Pro Rodeo starts on Friday
Posted on July 2, 2015 by Taber Times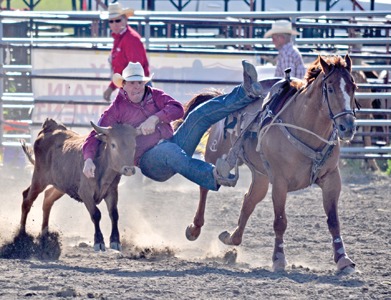 Times file photo by J.W. Schnarr
By Greg Price
Taber Times
gprice@tabertimes.com
Dust off your cowboy hats and boots, it's Taber Pro Rodeo time once again.
Starting this Friday, rodeo fans will be treated to a little bit of everything, including bull riding and saddle bronc, to barrel racing and calf roping. Even the little ones get involved much to the fans delight with mutton bustin' for six and under.
"We have cowboys from all across Canada," said Barry Jensen, president of the Taber Pro Rodeo Association, adding cowboys from the northern States in the USA come as well. "Bull riding is always a huge attraction anywhere. There are a lot of people that like to go for the rough stock events and for others, the draw is the timed events. There's a good mixture with something for everybody."
Gates open, along with the beer gardens at 5 p.m., with competition starting at 6 p.m. Saturday's slate has a Heritage Days Parade in Taber at 2 p.m. with the gates for the rodeo opening at 5 p.m. for a 6 p.m. performance. The pro rodeo ends on Sunday with gates opening at 1 p.m. with a 2 p.m. start for performances. Liberty Entertainer Cassie Horner will be at the rodeo once again doing some trick riding and Miss Rodeo Taber 2015 Kailey Andrus will be on hand making guest appearances.
With an under-utilized midway last year, with rides for kids, the concept has been scrapped for this year's pro rodeo.
"They never hardly made enough money for the fuel to come down and set up for the rodeo, so they wouldn't come back this year," said Jensen, adding there will still be plenty to enjoy including a favourable weather forecast. "It's going to be some nice, sunny weather to enjoy an outdoor rodeo."
An outdoor rodeo that is now in its 77th year of existence which Jensen attributes to the support local volunteers, community organizations and businesses have gotten behind.
"We want to tip our hats to the volunteers," said Jensen, adding volunteers range from 20 to 30 in helping the pro rodeo run during the three-day event. "And we really want to tip our hats to our sponsors and supporters in the community. If it wasn't for them, we wouldn't be able to do this."
Cost for entry is $15 for adults, $10 for seniors and kids. Children four and under get in free.
"I have been to four rodeos this year and I had not seen one of them that was under $20 for admission, so this is good value for a rodeo," said Jensen. "Come out and enjoy the activities. This is an activity the family can come out to and enjoy. We are on our 77th year this year and is still the longest, consecutively run pro rodeo in Canada today. This is something Taber should be proud of in being able to do this for as long as we have."
Taber Pro Rodeo grounds are located one-and-a-half miles north of Highway 3 on Highway 864 on the Park Road NE 1/4 1-10-17 W4.