Taber Golf Club holding junior league and camps
Posted on July 2, 2015 by Taber Times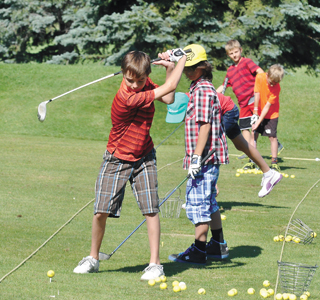 Times photo by Greg Price
By Greg Price
Taber Times
gprice@tabertimes.com
Taber Golf Club is hoping youth will get into the swing of things this summer with its junior golf league and upcoming camps.
Last week saw the first week of the junior golf league at the Taber Golf Club.
Thursdays at 10 a.m. will be the regular time for the junior golf league which saw 16 kids at last week's first session.
"We're basically just wanting to get kids out on the golf course and having fun and meeting some new people," said Mike Dern, head golf professional at the Taber Golf Club.
"There is some instruction on etiquette, course behaviour, along with some fundamentals. If we can get up to 40 kids, that would be perfect."
As long as the kids want to play on the course, organizers will leave it up to the kids themselves with how long they stay on the golf course.
"The younger kids, if they can only play two or three holes, that's fine. The kids in the younger age categories will have a parent with them," said Dern.
"That will make it a little easier if they are getting tired after a couple of holes where the adults will recognize that and pull them out."
There is a youth movement in golf right now with the hot names on the PGA tour of Rickie Fowler and Jordan Spieth, which are drawing youth to the sport which the junior camps and leagues at the Taber Golf Club are hoping to capitalize on to increase local interest.
"Those guys are still in their 20s, so it is easy to catch on with some of the more exciting characters on tour," said Dern. "I think golf offers people a chance to meet new people and have a lot of fun. You can play a bunch of different games and even if you are just practising you can still make it fun. It's something you can do yourself or do with some buddies."
Cost for the junior golf league for kids is free for members or $10 per week for non members.
"Kids will also get some snacks out there. And one thing I'm looking to do starting in July is have a points system, based on how many times you show up. If you are here all the time, you are going to get more points and you can put that towards some prizes," said Dern.
Taber Golf Club will also be holding junior camps to help hone kids' skills July 14-16. July 14 is for kids five to seven years old, from 11 a.m.-2 p.m. at the Taber Golf Club at a cost of $15. July 15 is for ages eight to 11 and will run from 10 a.m.-2 p.m. at a cost of $20. July 16 is for kids 12 and up from 10 a.m.-2 p.m. at a cost of $20. The junior camps will focus on grip, stance, swing, course etiquette, and safety.
Camp space is limited where dates may also be included to July 21-23 if enough interest happens with the camps.
To register for the camps you can e-mail proshop@tabergolf.ca or call the pro shop at 403-223-2951.