Spurs looking for consistency
Posted on July 2, 2015 by Taber Times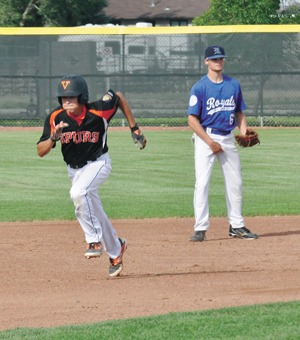 Times photo by Greg Price
By Greg Price
Taber Times
gprice@tabertimes.com
Vauxhall Spurs baseball club coaching staff is hoping Sunday's doubleheader in American Legion 'A' competition is a sign of things to come for a team still searching for its identity.
"Saturday we did no good at all and Sunday, we probably played the best baseball we have all year," said Joel Blake, head coach of the Vauxhall Spurs baseball team.
The game Blake was referring to was being baffled by two young pitchers on the mound in 10-3 and 13-4 losses to Medicine Hat on Saturday on the road followed by an extra-innings loss and a lopsided win against Lethbridge on the road on Sunday.
"We came out flat (on Saturday). We didn't come out to play, we didn't take care of the baseball. All weekend, we threw the ball well and we usually swing it well, but on Saturday not so much," said Blake.
"They (Medicine Hat) stuck it to us. They had a 15 and a 16-year-old on the mound and they both went complete games. It's got to come down to a point where we have a lot of 18 year olds and a 19 year old and there's got to be some pride mixed in there competing against kids."
Blake was encouraged with how the team bounced back on Sunday against Lethbridge in what he noted was the team's best two games to date.
But that identity with overall consistency still eludes the Spurs, according to the man at the helm.
"On Sunday it was a lot better. Every team is different and I don't expect everyone to be rah, rah, over the top, because everyone has different personalities. But I do expect people to show up and compete and be in a game," said Blake.
"You talk about consistency and we did see it earlier this year where we are showing that heart or whatever you want to call it. But, it's that roller coaster ride right now, and in sports that can kill you. You have to be able to set the tone where we have to keep going in the right direction and not go backwards."
Earlier in the week's action, the Spurs 10-runned the Fort Macleod Royals last Wednesday at Jets Stadium.
"Ryan Marshall has been swinging the absolute crap out of it. Kaden Fujita had a great day (Sunday). Jalen Lane has been throwing the baseball well," said Blake.
"We just overall have to come out and take care of business and we have to bury teams."
The Spurs play its Alumni Game on Canada Day at 7 p.m. at Jets Stadium where the 25th anniversary of the State champion 1990 squad will also be celebrated.
"We're hoping a lot of alumni come out and the fans. It's a great time and a great night with a lot of fun. Last year we had a crazy turnout with like 25-ish alumni. It was a hell of a day, it was the most people I've ever seen at Jets Stadium," said Blake.
The Spurs hit the road on Sunday with a doubleheader against Havre in Montana. The team then travels to Tri-County on Monday.