Barnwell Trojan athletes bring home banners
Posted on July 2, 2015 by Taber Times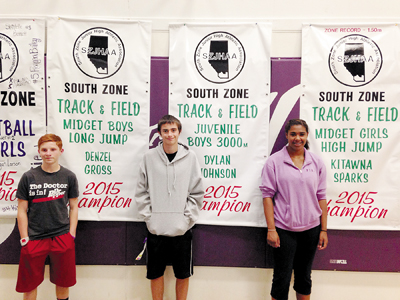 Times photo submitted
By Greg Price
Taber Times
gprice@tabertimes.com
While the Barnwell Trojans were unable to recapture the 2J South Zone Track and Field Championship as a team, three of its members stood above the competition in their respective events at the South Zone Championships on June 3 in Medicine Hat.
Denzel Gross was the only Midget Boy to break the five-metre barrier with a jump of 5.10 metres.
"Denzel was in a class all by himself," said Trojan coach Aaron Edlund.
"His speed and explosiveness are incredible. I see big things for him in the future and am grateful he's wearing Trojan purple in so many sports for us."
Kitawna Sparks not only captured a South Zone banner for herself, but she did so while tying the Midget Girls High Jump record with a leap of 1.50 metres.
"We have had some great high jumpers in recent years, some of which have also been top finishers in the high jump.
However, 1.5 metres not only ties the zone record, but she also set a school record, and she still has one more year of junior high," explains Edlund.
On the track side of things, there are few events more grueling than the 3000-metre.
But, according to coach Edlund, "Dylan Johnson eats that sort of thing up."
Along the way, Johnson also ate up the competition, besting the second-place finisher by 22 seconds with a time of 10:46.
"Most kids would be thrilled with an individual zone championship, but Dylan was also gunning for our school record of 10:45," said Edlund. "He was pretty sad to be so close."