Varsity Rebels rugby falls to Fort Macleod
Posted on June 3, 2015 by Taber Times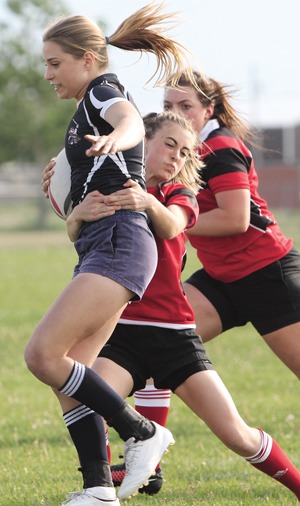 TIMES FILE PHOTO
By Greg Price
Taber Times
gprice@tabertimes.com
It was one and done for the W.R. Myers varsity girls rugby team who suffered a tough 24-5 loss to F.P. Walshe in Fort Macleod last Wednesday in the league championship semifinal for the tier.
"I felt the senior team didn't live up to their potential. As coaches we knew they could have played better than they did. But, they were up against a very tough team in F.P Walshe," said Andrew Llewelyn-Jones, a coach in the W.R. Myers Rebels girls rugby program.
"F.P . Walshe is always strong and has a lot of size with a lot of big players. It was certainly not a blowout and the girls fought as well as they could, but at the end of the day, the better team won."
Nevertheless, the match marked the end of a very successful rugby season for both the varsity and junior varsity teams that saw plenty of victories in both programs including the JVs winning its year-end tournament the previous weekend with a perfect 4-0 record, an international rugby tour, and interest that continues to be strong in the program for players for the love of the game.
"We will lose about nine or 10 Grade 12s, but we have nine or 10 Grade 10s going up to Grade 11, so the program is healthy," said Llewelyn-Jones of the girls rugby program that has now concluded its sixth season. "The last two seasons we've got between 40 and 50 girls playing either JV or senior varsity which is where you want to be. We feel it's a strong program where a rugby culture has been established at Myers. The school field is a rugby field which is great for us because we play our home games at the school. That's significant because it shows the growth of the sport. We had the JV tournament at home last week, and the teams came up to us asking if Myers could hold the end-of-the-year tournament every year. What we try and do is give a sport that has a competitive edge, plus some positively intake girls which they will enjoy doing and we see girls coming through the system wanting to play rugby and be part of the rugby culture at Myers."