Giroux tourney continues to amaze
Posted on June 3, 2015 by Taber Times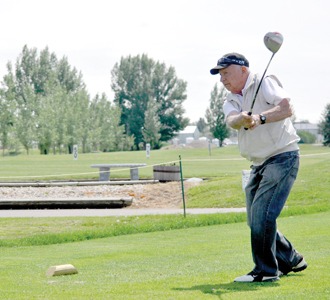 TIMES FILE PHOTO
By Greg Price
Taber Times
gprice@tabertimes.com
The success of the Paul and Bernice Giroux Memorial Charity Golf Tournament was self evident, even before a swing was taken at the Taber Golf Club on Saturday afternoon.
"It filled up in 24 hours. I had the posters up in the late afternoon and it was done by 11 .a.m. the next day (for registrations," said Steph Giroux-Feininger. "We sat at 168 golfers for the longest time and ended up having 160 with a few dropping out at the last minute. It filled up last year too. It was also a lot of returning golfers and even this year golfers were saying 'make sure we are in next year'."
There was over $8,000 raised at last year's inaugural tournament in which Giroux-Feininger expects around the same this year with the benefactor being ACE Place Learning Centre. Paul Giroux who passed away this year, was a founding father of the alternative learning centre in Taber, serving on its original board of directors as an institution he firmly believed in.
"There will also be a Giroux vocational scholarship given out. Not academic or athletic, but vocational. Dad was a mechanic, which he went to school for. He used to hitchhike from Picture Butte to Lethbridge every day to get his mechanics for college there," said Giroux-Feininger.
"After he had his heart transplant, he couldn't do that work anymore and he started teaching shop at Myers. Back in the day, that is where all the bad kids went to shop, where he knew the kids and he almost served as a truant officer to make sure the kids were getting to school. That ended up leading to his last job as a native liaison for the entire (Horizon) school division. My mom also worked in the school division as a teacher's aide for over 30 years."
As one of the founding fathers of ACE place, Paul Giroux saw the school as a chance for anyone to get a quality high school education.
"A lot of the kids in there have social problems, be it learning disabilities, you'll see pregnancies in there, problems with bullying in other schools or they have been kicked out of every other school and this is their last chance," said Giroux-Feininger. "It's an amazing school that helps many different types of students with their learning needs. My dad wanted to make sure every kid could get an education, and ACE Place has a very high success rate. Every year we will pick a different local charity, it will always be local."
A lot of the generous hole sponsors were from people whose life Paul touched. Bernice Giroux was cared for at Linden View as she battled Alzheimer's in her last stage of her life, which wanted to sponsor a hole.
"We couldn't take any money from Linden View obviously, but we wanted them to be part of it, so we dedicated Hole No. 10 to them and anybody who struggles with Alzheimer's so we had little purple ribbons in the bags this year with a lot of people wearing the ribbons the whole time," said Giroux-Feininger, adding there was also a card for organ donation with the Giroux family being big proponents of the initiative.
With an endearing sense of humour, Paul Giroux was a man whose influence was of an unassuming nature which people could relate to.
"It's never been a 'look at what we've done.' My dad was never a showboat, and he did a lot that people didn't know about," added Kathy Giroux, daughter of Paul and Bernice who has donated an organ within the family.