Spurs aiming for championship
Posted on May 27, 2015 by Taber Times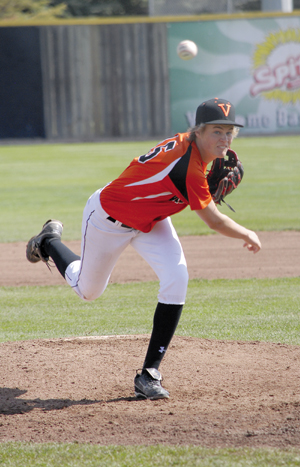 Southern Alberta Newspapers photo by Garrett Simmons
By Greg Price
Taber Times
gprice@tabertimes.com
Vauxhall Spurs baseball club are getting ready to kick off another competitive season of American Legion "A" baseball this season.
With players from Taber, Vauxhall, Bow Island and Brooks on the 15 player roster, the team is raring to go for its regular season which starts June 6.
"We had 21 kids come out, but we're pretty excited about these 15 guys we are taking," said Joel Blake, head coach of the Vauxhall Spurs. "We're hoping for a good season. We are returning some key players, we only took two new players so there's solid core coming back."
Expectations continue to be high as the Spurs aim for another district championship.
"We are still a little bit young, but we have some key players in that Grade 11 range that will help us out," said Blake. "We have a solid offensive lineup, but again everything looks good on paper until we actually get out there, so you never know. We have some good athletes one through 15, we have a little bit better rotation this year and our bullpen is a little deeper."
Blake noted there will be some players playing out of position with a roster that is top heavy with infielders.
"But as far as athletes and offensively, it was hard not to take these kids. So we will have some guys playing out of position every once in a while in the outfield, but they will settle in. We have some ball players," said Blake. "We had two lefties on our squad (for pitching) and one went down with a labrum injury so I'm not sure how much he's going to be throwing for us. So we are right-hand dominant pitching, but we have three legitimate starters in this league."
Vauxhall Spurs have its season opener on June 6 with a doubleheader against Medicine Hat Knights starting at 1 p.m. at Jets Stadium. The team also hosts Tri-County Cardinals in a doubleheader on June 9 starting at 5 p.m. at Jets Stadium.
"Something we try and instill in your kids from last year is playing the game hard and play the game the right way. I expect the kids to show up every day and work. Control the things you can control, the energy, the attitude and the hustle," said Blake. "Outside of that, sometimes things happen. But I expect that we come out and play the game hard, take care of the baseball. Last year I thought we did a very good job of base running, reading balls in the dirt and taking that extra bag, things like that. Things that can help you win or lose a ball game in this division."