Rebels football earns coaching accolade
Posted on May 20, 2015 by Taber Times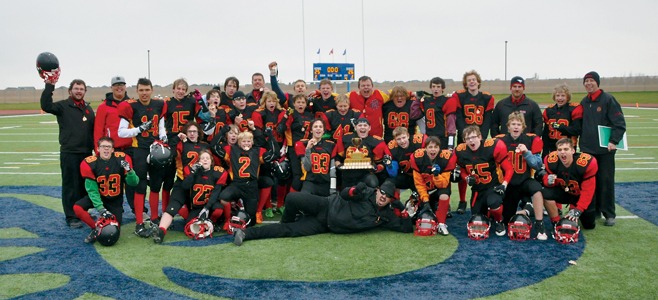 Times photo submitted
Football is the ultimate team sport.
All 12 players on the field must work in unison to ensure everything goes according to plan. A missed block here, or a missed defensive assignment there, can mean disaster at any moment.
In short, every player must buy into the system, and commit themselves to the gameplan, each and every week. For that to happen, there also needs to be cohesion amongst a football team's coaching staff.
Saturday night, the Taber bantam Rebels staff was named the Southern Alberta Minor Football Association coaching staff of the year, a testament to just how cohesive the entire group was in 2014.
"That's a nice honour to receive," said bantam head coach Garrett Simmons. "We had a good mix of youth and experience on our coaching staff last year and I think it worked out very well."
The 2014 season culminated with a Div. III championship in a come-from-behind win at the University of Lethbridge Community Stadium against the Lethbridge Bulldogs, as Simmons added members of his staff played a large role in making that happen.
"We made some key adjustments in the second half on offence and defence, and it was enough to help us pull it out," said Simmons. "Of course, the majority of the credit has to go to the kids though. They're the ones who sacrificed a lot of free time throughout the season and they're the ones who gave everything they had out there on the field."
Simmons, who, along with being the head coach, also ran the offence last year, was joined by defensive co-ordinator Jason Jensen and assistant coaches Emmitt Campbell, Greg Price, Connor Row and Devin Werewka on last year's staff.
"I couldn't have asked for a better group of guys to help lead these young men," said Simmons, a sentiment echoed by Jensen.
"In the couple of days since we won the award, I've been congratulated by a lot of people, including other coaches from around the league, parents, former players, and current players," said Jensen. "The common theme I have been hearing is that people felt we deserved this not just because of what our team was able to do on the field, but because of the effect we have had on players, in terms of building self-esteem, team cohesion and character. That means as much to me as being recognized for our football knowledge and strategic skill."
Jensen also gave credit where credit was due — to the kids on the field.
"I would also like to point out that having a special group of players goes a long way to helping a staff win an award like this," said Jensen.
"As I've mentioned before, our captains this year displayed uncommon leadership, and that really helped keep the team on the same page in the huddle and the locker room, which makes it far easier to implement coaching strategies. That's the reason I had Wyatt Thurston, Evan Harkness and Granger Leth, who were our all-star representatives, come up to accept the award with me at the banquet. Players like that help make a staff look good."
It's the second SAMFA coach-of-the-year award for Simmons, as the Rebels also took home the award in 2007.
"That was another special year and in fact, coaching with Rob Tams that year, we had two kids on that team, Campbell and Row, who ended up coaching with me last year," said Simmons.
"Football is like a great big family, and it's been amazing over the years to see those kids you've coached, grow up and be members of the community and in this case, volunteer right beside you. That's why you coach. It's not for the awards or the championships, it's for that lasting, positive impact you've hopefully had on the kids."