Competition marks historical gymnastic moment
Posted on May 20, 2015 by Taber Times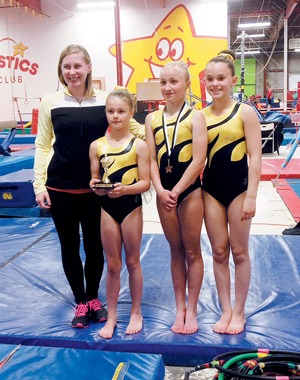 Times photo submitted
By Greg Price
Taber Times
gprice@tabertimes.com
Three local gymnasts competed at the Hollywood Classic in Calgary earlier this month.
Apart from the final results, just competing had some historical implications with how far the sport has come within the area.
"We calculated it, and it was the first time in 20 years since someone from Taber competed at a (gymnastics) competition," said Katrina Brandt, pre-competitive, competitive coach for the Taber Gymnastics Fitness Club. "The last one back then (Tara Coney), it's now her daughter that ended up competing in Camryn."
Camryn Coney, Madison Rempel and Abby Sawchuk competed in Provincial Level I Tyro.
"They exceeded my expectations. I always make sure they set realistic goals for themselves, not anything to do with placings, or getting a ribbon or medal, although that would be nice," said Brandt.
"Our goal was have fun and pick one event that you attack with 100 per cent confidence and they did that for all four events."
With the Taber Gymnastics Club enjoying its new 5,400-square foot building at 5336 48th Avenue for a few months now, it has aided in re-invigorating interest in the sport, where the club was hamstrung previously having to use the Taber Community Centre auditorium. The new 5,400-square foot building houses such things as a ground trampoline, tumble track, foam pit and a very large gym floor.
"The new permanent facility has allowed us obviously to train more hours. We are still not up to the number of hours that would be nice for competitive gymnastics. But going from two hours a week, where now they are training seven-and-a-half hours a week, that's a pretty big jump," said Brandt. "The number of hours has definitely increased which has allowed them to flourish and hone their skills in these last few months since February."
Estimates are that Taber Gymnastics Fitness Club registration is hovering around 250 participants for the spring session.
"That's the highest it has been in at least the five years I've been involved in the club," said Brandt. "Numbers are increasing and having a permanent facility which gives us an opportunity to offer classes every day of the week has really helped that."
There were 15 local gymnasts who also competed at Gymfest in Calgary on the same weekend.
"It was a superhero theme which all the kids really loved. Their costumes were some of the best ones," said Brandt of the event, in which there were over 250 participants involved.