Short-handed Rebels run the table
Posted on May 13, 2015 by Taber Times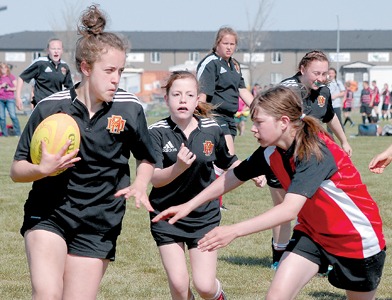 Times photo submitted
By Greg Price
Taber Times
gprice@tabertimes.com
The depth of the W.R. Myers Rebels junior varsity girls rugby program shone through at a tournament in Lethbridge.
Despite missing three big cogs in what is the Rebels Rugby machine, the team still managed to win all four of its games, and in convincing fashion.
"For Saturday for the JV tournament we didn't have two of our faster players who were away at a basketball tournament the same weekend, so we did some switching around. We also didn't have our scrum half Brynn (Skelly) who was hurt in the Raymond game," said Andrew Llewelyn-Jones, a co-coach of the W.R. Myers Rebels girls rugby program. "Those were three very good players that were not available, but the girls still went 4-0 in the tournament."
The junior varsity Rebels girls rugby team earned a 34-0 victory over Matthew Halton from Pincher Creek in its first match. Rebels powered on to beat F.P. Walshe from Fort Macleod 31-5. The victories kept rolling with a 26-0 win over Chinook, and then finished things off with a 37-0 blanking of Strathmore.
"I put two girls out in centre positions where the two fast girls were missing and they did very well, they had a lot of fun out there," said Llewelyn-Jones. "It was a different style where the two girls were more forward-type players, but had the option to play out the back and they were powerful. They were running through tacklers."
It was also a tournament that allowed Llewelyn-Jones to spread out the playing time to give numerous players plenty of quality playing time.
"It was a good, satisfying tournament for the girls. It allowed us to play some girls who have not had the opportunity to play much this year, especially the Grade 8s that are just getting into the game. We gave them the run out this tournament which was good," said Llewelyn-Jones.
Earlier in league competition, the Rebels were in Lethbridge to play Winston Churchill Griffins.
The varsity Rebels girls rugby team showed its grit in a tight 7-5 defensive battle victory.
"It was a defensive battle big time. It was great to see because the defensive work of the girls was phenomenal and also you are playing a very good team in Churchill. They are one of the provincial contenders," said Llewelyn-Jones. "It was a very good performance, and that was the first time the senior team has beat Churchill. They won on a penalty try. What happened was the girl was in a scoring position and she fouled out. In this case, it was a high tackle just as she was about to score so the referee gave the penalty try. It showed a lot of character and it was character that carried on from the tour of Wales where the girls dug deep to play well out there."
In another defensive battle, the junior varsity Rebels beat Churchill's JV team 10-5.
"We scored two very good tries and we shut Churchill down, where they scored one try very late on in the game," said Llewelyn-Jones. "The defensive work was very good. Whenever there was a threat from Churchill, they snuffed it out each time. It's pleasing from a coaching standpoint, because defence in rugby usually gets you on the winning side on a lot of games. Even if you get wave after wave of attack, if you repel it, it's discouraging for the other team mentally."
It was a different story last Monday as both Rebels teams went down to defeat to Raymond Comets.
The varsity team was shutout three tries to nothing 15-0.
"They played well defensively and that was still a good result against Raymond who was blowing away the competition. To go to Raymond and be in the game where they were there with opportunities, but they just couldn't convert them," said Llewelyn-Jones.
The junior varsity Rebels lost by the same margin.
Losing scrum half Brynn Skelly to injury in the game seemed to have a ripple effect on the team as it tried to recover.
"That unsettled the girls quite a bit. She got hit in the eye by accident and she was out. I had to switch someone into the scrum half role that had never played it before," said Llewelyn-Jones, adding the team did bounce back with a stalemate of a second half, after the injury in the first half. "The girls rallied in the second half and showed some character. I think it unnerved the team to put a new player in the scrum half position who had never played it before. It disrupted the momentum of the team."
The Rebels travel to Lethbridge today to play LCI Clippers. Game time is 5:30 p.m. for varsity and 6:45 p.m. for junior varsity at Sherring Field.
"They are a good team this year. It should be a very close game, I expect a similar tussle to the one we had against Winston Churchill. Hopefully we will come out on the right end," said Llewelyn-Jones.