Enigma beats odds on way to provincial title
Posted on May 13, 2015 by Taber Times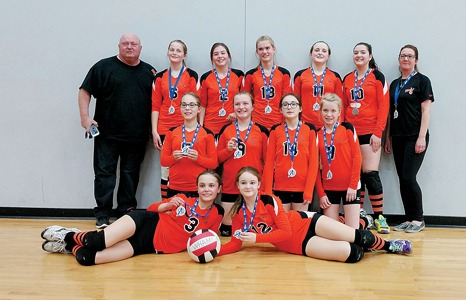 Times photo submitted
By Greg Price
Taber Times
gprice@tabertimes.com
And that's why they play the games.
Going in as the 13th seed at Div III U15 girls provincials, the WHAM! Enigma club volleyball team emerged with the banner as provincial champions earlier this month, keeping to the team's namesake, and baffling the competition.
The team gutted out thrilling three-set victories over Grand Prairie Black (2-1) in the semis and Red Deer Queens in the championship provincial final (2-1).
In the playoffs with the Round of 16, Enigma beat Didsbury Dynamite (2-1), before continuing its playoff victories in the quarter-finals against St. Albert Valour (2-0) in its banner journey.
WHAM! Enigma ended up first in pool play after victories over TSA Calgary Elite (2-0), Battle River Vikings (2-1) and Sherwood Park Infinity (2-0).
"This group has not had success like this season. There has been steady growth and improvement, and the quality of the play has been better with each tournament, but there was certainly no expectation that the banner was 'in the bag'," said Enigma coach Pat Pyne.
"There was a new-found confidence this weekend. The things we've done well (serve/free-ball passing) we did really well. And things that needed to be better (team defense and our attack efficiency), were much improved. This tournament was a major turnaround for us, and I'm so happy for the girls. They showed a confidence that just hadn't been there all season. On the court, it was positive and focused. And it's always great to play your best when it matters the most."
Kaitlyn Bos and Aideena Wickstrom from the Enigma team were recognized as provincial championship all-stars.