Rebels girls continue winning ways
Posted on April 29, 2015 by Taber Times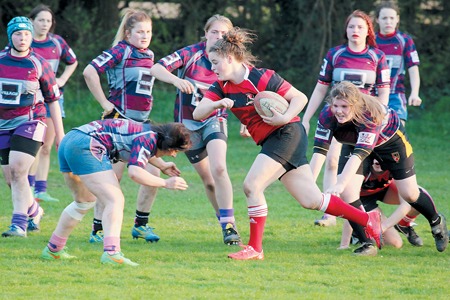 Times photo submitted
By Greg Price
Taber Times
gprice@tabertimes.com
W.R. Myers Rebels girls rugby program continues to shine in league play as both the varsity and junior varsity squads earned victories against Cardston last Wednesday at Myers field.
The varsity Rebels squad earned a 37-10 victory.
"It was an all-around performance. They ran and tackled well, and the ruck play was very good," said Andrew Llewelyn -Jones, co-coach of the W.R. Myers Rebels rugby team. "It was a good all-around performance. When the girls were threatened by the Cardston team, they responded well by tackling well and getting themselves out of any potential trouble."
The junior varsity Rebels dominated their rugby match to the tune of a 51-0 score.
"It's hard to say, we will likely get tested more than this as we continue to play. We have mostly Grade 8, 9 and 10 players for the JV squad, and some of the Grade 10s are brand new, but they have speed," said Llewelyn-Jones. "The speed of our team, plus the experience some of the forwards have in controlling and dominating play, against Cardston we completely dominated the game. I don't think they were hardly in our half very often."
The Rebels played Chinook on Monday night.
"Last year when we played Chinook, it was at the U of L stadium and it wa sour very first game of the season. It was tied 5-5 for both the senior and junior games, so it was interesting to get two draws by the exact same score," said Llewelyn-Jones.
Also a game that was supposed to be played last week in Medicine Hat still has to be rescheduled due to prior commitments.