Rebels boys baseball team still searching for first win
Posted on April 29, 2015 by Taber Times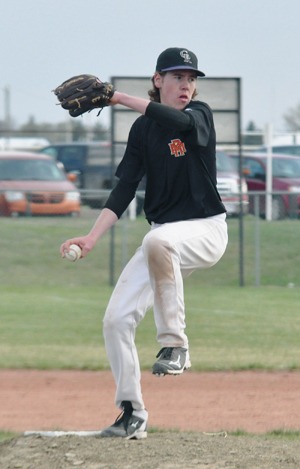 TIMES FILE PHOTO
By Greg Price
Taber Times
gprice@tabertimes.com
W.R. Myers Rebels baseball team has yet to break into the win column this regular season, but head coach Brendan Miller has seen the team take positive strides forward.
The Rebels dropped three lopsided games this past week, starting off with a contest against the Vauxhall Vikings last Wednesday at Ken McDonald Memorial Sports Park.
"We swung it all right in the Viking game. Our hitting has definitely improved throughout the year," said Miller.
The Rebels also suffered home losses at Ken McDonald Memorial Sports Park to Crescent Heights Vikings and Brooks.
"It's a combination of not throwing strikes, and when we do throw strikes we don't make plays. We're a pretty young team actually, we have a few Grade 12s, but we haven't had a full squad yet this year because of band stuff or plays or whatever," said Miller.
Throughout their baseball careers since they were young from mosquito on up, head coach Miller and assistants Clay Turcato, Ryan Hutchison and Nolan Gilbertson have had their share of success right up to Spurs American Legion 'A' baseball.
As the 2015 version of the W.R. Myers Rebels baseball team continues to improve, Miller hopes their whole game comes together soon.
"We have to go over the basics with cuts and relays, having the cutoff man in the right spot, catching balls that should be easily caught," said Miller.
"It's just a bunch of little things that we need to work on, so the next few practices will be big practices for us."
The Rebels travel to Maple Creek today and then are off to a tournament in Vulcan Thursday to Saturday.
"We just have to keep pushing forward. Our hitting has improved so much from the start of the season to where we are now. If we can get our pitching and our defence to come along because there's three parts to the game to make it successful, you have to have all three parts working or at least two of the three," said Miller.
"If we can limit errors and get our full squad there, I think we have a decent shot at being competitive."
Each of the Rebels games has featured stretches of innings where games have been close, only to see it get blown up in a hurry with one bad inning. Struggling to get that third out which results in a bunch of unearned runs.
"It's been tough for the kids, because they are out there to compete and win and sometimes when the ball isn't hit to you, you can't do anything about it," said Miller.