W.R. Myers baseball club ready for action
Posted on April 15, 2015 by Taber Times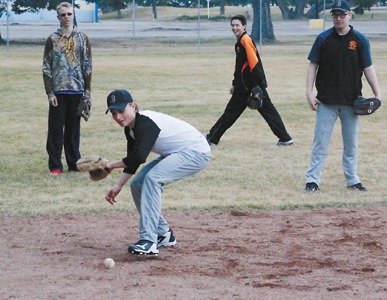 TIMES FILE PHOTO
By Trevor Busch
Taber Times
tbusch@tabertimes.com
Although the final roster hasn't yet been determined, the W.R. Myers High School baseball club is in the final stages of readying for the playing season.
"We don't have a team picked yet, but probably in the next few days we'll have it picked," said head coach Brendan Miller. "We've been practising and battling with the weather to keep our guys outside. Some days you have to cancel practice, and then you can't practice for another week. We had a few weeks there where we didn't practice at all because too many guys coming out, which is a good problem to have."
Youth will be a factor for the Myers team, for better or for worse, according to Miller.
"I think we're going to have a younger team. We'll have a few older guys, but it will be a younger team, just learning the system of what we want to teach them. That will be our weakness and our strength."
Miller outlined the strongest competition the club is likely to face during the upcoming season, which commences April 16 with a road game against Medicine Hat.
"We're going to compete against all of the other teams, but we have no idea what the competion is like until we get out there. Medicine Hat always has good baseball, and I think Vauxhall will be strong this year. We're hoping we'll be right up there with them."
Miller indicating his pitching rotation is still a question mark until the team starts regular season play.
"We haven't really done too much with the pitching side of things. We'll see in our first game."
Looking at the club overall, Miller pointed out Myers looks to be strong defensively in the infield.
"I think we'll be really strong in the infield. We'll catch the ball in the outfield and limit extra bases hopefully. Offensively, we'll swing away, hit and run when we can, and maybe a few bunts once in while, but hopefully not."
Although competitive spirit is not to be discouraged, Miller is hoping the club manages to have a good time while on the diamond.
"What we hope to achieve, first and foremost, is fun. The kids have to enjoy the game, and hopefully they can learn a few lessons about baseball along the way, and win some games, and have a blast with it. That's the main goal, is to have fun."