Rugby girls in new venue
Posted on April 9, 2015 by Taber Times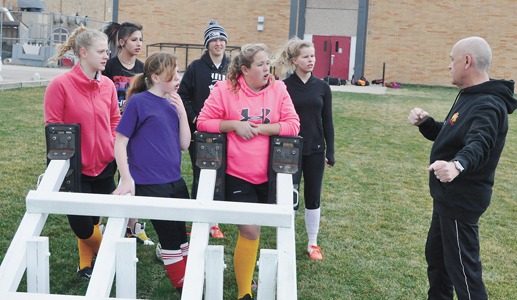 Times photo by Greg Price
By Greg Price
Taber Times
gprice@tabertimes.com
Another successful season of W.R. Myers Rebels girls rugby is ready to kick off on April 16 — and this time on a shiny new field.
"The changed venue is a big one where we will now be playing at Myers with the Pincher Creek game on the 16th. We would love to see a good tournament where our four coaches have worked very hard along with the girls," said Andrew Llewelyn-Jones, co-coach of the W.R. Myers Rebels girls rugby program. "Playing at Ken McDonald (Memorial Sports Park) was great before, but it took an effort to get out there. Here in town, maybe people can be walking by down the street and see a match going on and we'll have more people taking in our games."
Numbers are solid once again in both the varsity and junior varsity programs.
"We are actually in good shape. We have probably 22 to 25 in each squad, so about 45 to 50 girls," said Llewelyn-Jones. "We have new girls coming in every year whether it's the senior or JV. We're excited this year because the senior squad is a very experienced squad now. We are very confident they will do well in league this year and we'll see where things go in regards to any zones or provincials."
It will be the usual suspects with programs that are expected to be strong this year, although Vulcan does not have a team due to a lack of coaching.
"There will be Raymond, and F.P. Walshe will be strong again, probably Winston Churchill as well and LCI to some extent," said Llewelyn-Jones. "We will be competitive, the girls have the fire within themselves to be that way. We are a much better tackling unit than we ever have been, they understand that better. We have some very good runners on the team for speed, overall it's a very well balanced senior squad and quite a few of the JVs who played last year in Grade 9 are going up to Grade 10 and they are very good players."
It will be a quick turnaround for the Rebels girls rugby program as hopes will be there will be no jet lag from a rugby tour the team is doing playing three exhibition games in Wales on a trip from April 2-15.
"It's like a precessions tournament for them in a way, so when we play our first game (in league), we already have those three games of experience," said Llewelyn-Jones.
W.R. Myers takes on Matthew Halton on April 16 at Myers Field starting at 5:30 p.m. for varsity, with junior varsity to follow at 6:45 p.m.