4-on-4 tourney deemed a success
Posted on April 9, 2015 by Taber Times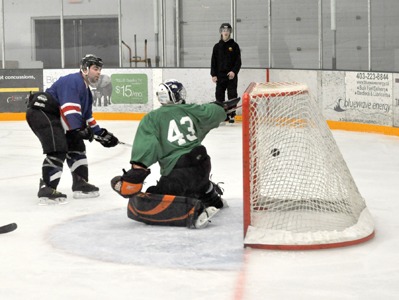 Times photo by J.W. Schnarr
By Greg Price
Taber Times
gprice@tabertimes.com
The 4-on-4 Hockey Tournament which officially ends the hockey season in Taber went off relatively smooth according to recreation supervisor Trent Smith.
The last couple of years the 4-on-4 Hockey Tournament has come under increased scrutiny as the event was nearly denied ice back in 2014 due to improper alcohol consumption concerns and verbal abuse of town employees back in 2013. The 4-on-4 Hockey Tournament has been a regular fixture in Taber since 2004.
"It was a really good weekend. I spent a lot of time walking around looking for any issues that may pop up. There was one issue out in the parking lot. But, we didn't have any really big issues and we had some solid conversations with the 4-on-4 group with what the expectations were," said Smith. "Many times I walked in there (the arena) looking for alcohol or alcohol where it should not be (outside the beer gardens) and I did not see it once. I saw some cups and I checked them and they were water. It was a tournament well run. We had a lot of help from the organizer."
Aline Holmen, recreation manager for the Town of Taber, added the same protocol was followed as 2014, where pre-planning involved town staff, tournament organizers, and town police.
"All the minutes were documented and we were quite thorough. That made a big difference. It seemed to be a younger crowd this year which changed the dynamics a bit as well," said Holmen.