Taber Minor Hockey honours its own
Posted on April 1, 2015 by Taber Times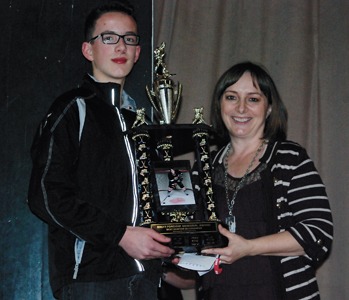 Times photo submitted
Another successful minor hockey season has come and gone for Taber Minor Hockey.
On Monday night, the organization held its year-end awards banquet. The following is the list of winners as provided by organizers:
Atom CAHL3 MVP (Lewis Tudor Memorial) – Nathan Verloop.
Atom Spud Team Player – Brendan Appleton
Peewee Spud MVP – Cassidy Phillips
CAHL 2 Player's Player (Jean Bowman Memorial) – Carter Deboer
CAHL2 – Best Defenseman – Josh Verloop
Bantam CAHL4 MVP (Butch O'Donnell Memorial) – Ryan Mankow
Best Defenseman (Brett Forchuk Memorial) – Brady Howg
Midget CAHL2 MVP (Freda's Mobile Court) – Linden Gouw
CAHL5 Most Improved (Cliff Passey Memorial) – Dominic Visser
CAHL5 Most Sportsmanlike (Les & Molly Marriott Memorial) – Brady Pavka
CAHL2 Best Defenseman (Perry Brandics Memorial) – Cam Mack
CAHL Bruce Wills Memorial (Scholastic Achievement & Hockey Proficiency) -Kaden Fujita
Goalie (Derrald Smith Memorial) – Andrew Makarchuk
Overall Player (Tessa Sparks Memorial) – Dallas Bodnar
Coach of the Year – Dave Mankow
Manager of the Year (Frank Koncz Memorial) – Don Hubble
Most Promising Official – Tyson Phillips
Taber Minor Hockey Team Awards
(Listed in order of Most Dedicated, Mosy Improved, Most Sportsmanlike)
Atom T3 – Kyler James, Connor Eldridge, Kole Reynolds
Atom Spud – Logan McComb, Evan Friesen, Erik Grimson
Peewee T2 – Max Nevil, Darci Wright, Blake Van Beers
Peewee Spud – Talen Damberger, Jacob Hardy, Byron Kress
Bantam T4 – Cal Kinniburgh, Rory Murphy, Eric Lowen
Midget T2 – Reed Odland, (no names submitted for most improved and most sportsmanlike)
Midget T5 – Dylan Jones, (no names submitted for most improved and most sportsmanlike).