Trojans girls continue 2J dominance
Posted on March 25, 2015 by Taber Times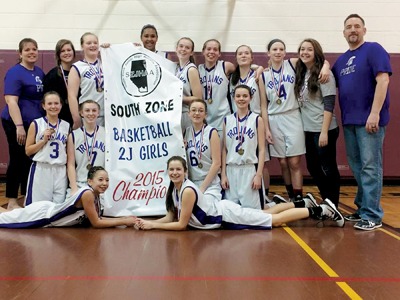 Times photo submitted
By Greg Price
Taber Times
gprice@tabertimes.com
It was the fifth straight 2J Zone banner for the Barnwell Trojans girls basketball team as the team battled not only its opponents, but the war of attrition being down some players in their championship game against Hill Spring.
"The girls were a little concerned, they were a bigger team and we had played them before in our own tournament and beaten them by three, so we knew it was going to be close and we were missing a couple of starters," said Chad Runquist, head coach of the Barnwell Trojans girls basketball team.
But despite size and numbers challenges, the Trojans earned the banner with a convincing 69-50 victory.
"In a championship game you just never know. Kitawna Sparks really stepped up and led the way," said Runquist of Sparks' 19 points in the championship.
Austen Robbins poured in 15 points. Reagan Bailey chipped in 10 points on the way to an all-star selection.
"It was close at the start, but Regan Bailey, our starting point guard, she can really control things and she did a great job of that and everyone played great defence," said Runquist. "And actually, Reagan was playing great and then about two minutes until the end of the third quarter, she got a Charlie Horse and could barely walk, so we were down three players and we only had seven players left.
"We were just trying to hold on. It was a great team effort."
The Trojans started its 2J banner journey against St. Catherine's from Picture Butte and won 71-40. Bailey had 17 points to go with eight assists.
Sparks had a double-double of 16 points and 13 rebounds. Katelyn Rasmussen recorded 10 points to go with five assists.
"We played everybody and everybody got some quality minutes," said Runquist.