Taber Oil Kings prove royalty of CAHL
Posted on March 25, 2015 by Taber Times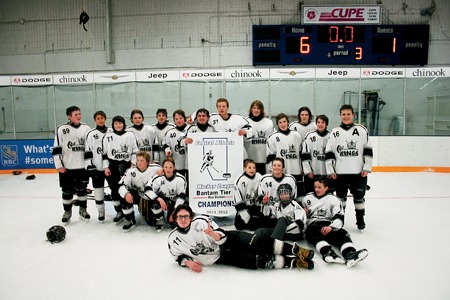 Times photo submitted
By Greg Price
Taber Times
gprice@tabertimes.com
A road well traveled made the Taber bantam Oil Kings make Central Alberta Hockey League (CAHL) history with a Tier IV championship this past weekend.
The top two teams squared off against each other in the championship with the Oil Kings taking the title and banner on home ice 6-1 on Sunday over Beiseker to take the best-of-three series.
Ryan Mankow had the hat trick, Evan Harkness tallied twice, and Dallas Bodnar had a single.
Walker Ross drew two assists and Ryan Hubble, Spencer Phillips, Darian Hardy, Nathan Kaye, Harkness, Ryan Hewitt, Eric Loewen and Gage Wiebe drew single helpers.
Andrew Makarchuk earned the win in goal, stopping 36 of 37 shots.
"We went unbeaten in the playoffs which was a feather in the boys' hats. Earlier in the year we had some discipline issues, dealing with suspensions, but towards the end before the playoffs, we were able to rein them in," said Dave Mankow, head coach of the Taber bantam Oil Kings.
"Those guys that were getting three or four penalties a game, came out and played really solid hockey and played disciplined with no penalties and that helped. We had some really solid goaltending where both our goaltenders played great. It was 6-1, but it was a lot closer than that in a hard-fought game. It was a 3-1 game going into the third, we had to work for it."
Earlier, the Oil Kings were able to skate to a 4-2 win on the road on Saturday to force Beiseker into the do-or-die situation.
Harkness tallied twice and Hewitt and Bodnar once. Hardy, Hewitt and Matthew Jensen drew assists. Makarchuk earned the win in net, facing 41 shots.
"Everyone worked as a team. We had some really solid speed and some bigger boys that were physical out there in the corners," said Mankow.
The Oil Kings bonded together on long trips as the Taber team was the only one from southern Alberta.
For the first time, a Taber team took home a CAHL banner in the five years Taber teams have played in the league.
"We were seeded in the right division, but there was a lot of travel. We had Airdrie, Beiseker, High River, Okotoks, Turner Valley. Our closest (road) game was Hussar and that's like a two-hour drive. Every other team was like a half-hour from Calgary," said Mankow. "It brought the team together. There was a lot of car pooling with a lot of parents not able to make that big trip all the time. It was a great bunch of kids and parents where some tried to get as many kids as they could into their trucks. It was a fun year with great parents in support which made the year that much more enjoyable."
NOVICE: Taber novice 1 OIl Kings took it down to the wire in its championship series before falling 9-6 to Irvine in the deciding game of the best-of-three series on Saturday.
Taking it the distance to the third game, Kade Duell had four goals and Hunter Damberger and Jaxson Coutts each had singles.
Vance Kramer and Carter Jensen drew assists.