Rebels girls take bronze at provincials
Posted on March 25, 2015 by Taber Times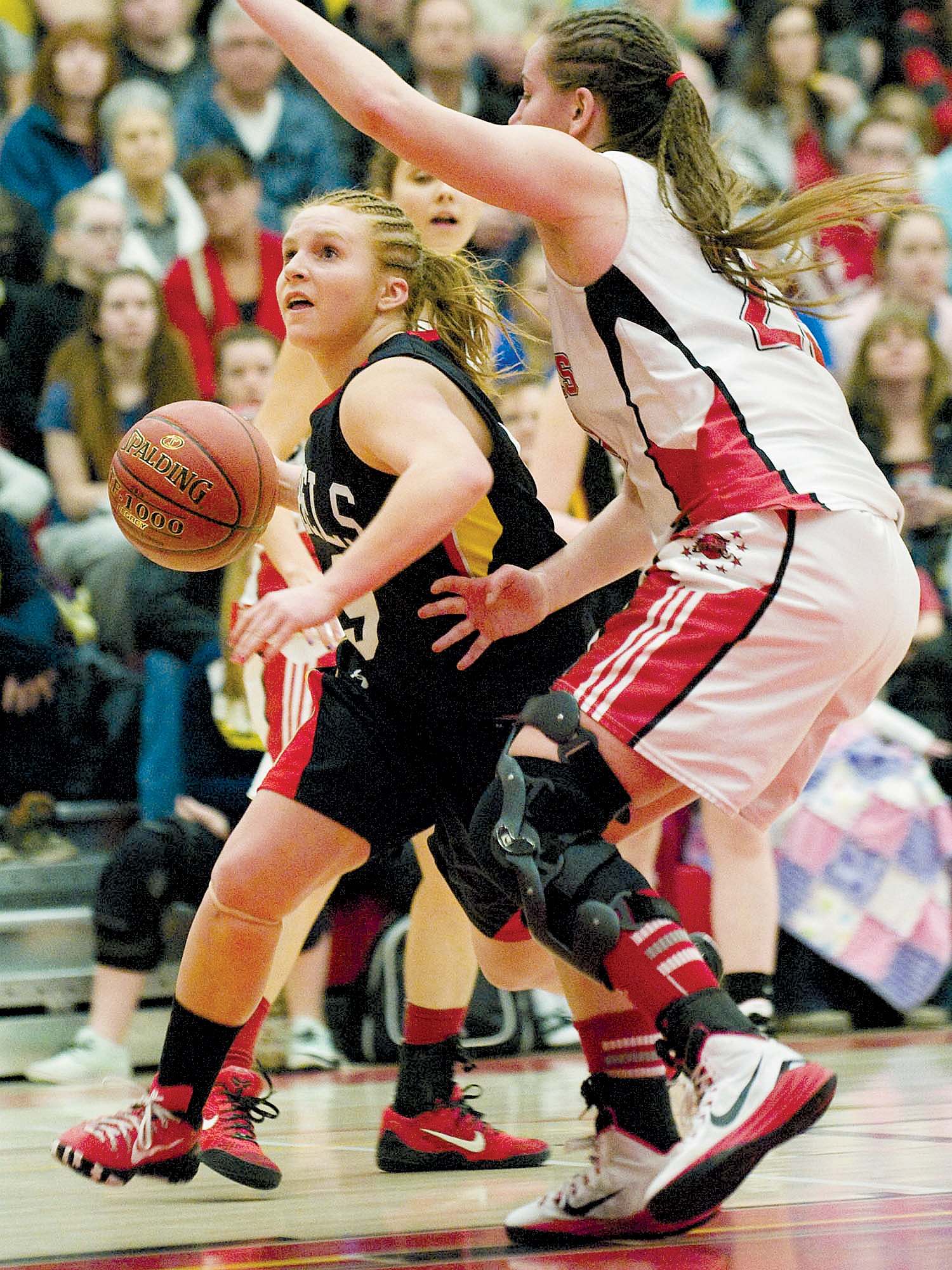 Southern Alberta Newspapers photo by Ian Martens
By Greg Price
Taber Times
gprice@tabertimes.com
It was not the colour of medal they wanted at provincials, but the W.R. Myers Rebels varsity girls basketball team bounced back quite nicely to take bronze in 3A on its home court with a 61-46 win over Edmonton Christian Lions on Saturday.
Natalie Hoyt had 20 points in the win. Millay Johnson had 14 points to go with eight rebounds. Paige Wood recorded the double-double of 12 points and 11 rebounds. Hayley Lepard hauled in 16 rebounds.
"After a disappointing loss in the semi final we needed to refocus and not collapse. We told the girls that although this isn't the game that we wanted to be in, we still had to show what great character we have and come out and win this game," said Kenney Wood, head coach of the W.R. Myers Rebels varsity girls basketball team.
"The girls all bought into that and were determined to go out winners. Edmonton Christian had played St. Joes and had beaten them by nine, so we knew we had to put a game together to win. We had a great season at 28-6, it was something to be very proud of."
It was a tough-luck 69-59 loss in the provincial 3A semifinal to St. Joseph Saints.
Lepard had a monster double-double with 15 points and 21 rebounds. Johnson poured in 14 points to go with eight rebounds. Katessa Gross and Hoyt both had 12 points apiece.
"This game was a difficult one, we had a really slow start and missed a number of shots in the first quarter that we usually make work . We could have been up by 10 in that first quarter, but ended up tied," said Wood. "We had another tough quarter in the second, and St. Joes shot quite well. That put us behind, and we could never get over that hump. The Saints hit shots that they needed to keep the lead."
The Rebels girls started in provincial run in dominant fashion on Friday in a 80-26 victory over Chestermere Lady Lakers.
Gross had a game-high 29 points t go with seven steals. Hoyt netted 23 points. Lepard's line included 11 rebounds and five steals with teammate Wood scoring nine points. Sadie Lund was top rebounder on the team with 13.
"Chestermere had come off a big 35-point win on Thursday and I think were hoping for a much better result. We came out with a great amount of energy and really took the wind out of them. They just never recovered and didn't score over 10 points in any of the following quarters," said Wood.
ALL STARS: Katessa Gross, Millay Johnson and Natalie Hoyt were selected to the Southern Alberta High School Girls Basketball League all-star game which goes today at 6 p.m. at the University of Lethbridge.