New golf season at Taber Golf Club brings new golf pro
Posted on March 25, 2015 by Taber Times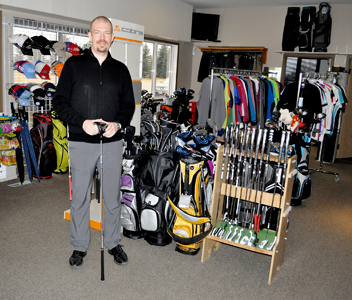 Times photo by Greg Price
By Greg Price
Taber Times
gprice@tabertimes.com
Another golf season is upon us and with it for 2015 is the Taber Golf Club featuring a new golf professional at the helm.
Replacing Ben Finlayson, who went to pursue work interests in Vauxhall, is Mike Dern, who comes from Manitoba.
"I grew up a little outside of Winnipeg and pretty much off and on for the last 15-16 years, been in Winnipeg," said the 32-year-old Dern, whose first day on the job at the Taber Golf Club was March 15. "I've been in the golf industry for 16 years and most recently, I was with Bel Acres in Winnipeg. I've worked at a few as an assistant."
Eager to move on to a new challenge as a head professional, Dern is settling in at the club.
"I've learned different styles and methods from various people. This was a chance to step up and take on a bigger role and use my expertise a little better," said Dern who has a business degree through the University of Manitoba and has done a lot recently with the Certified Management Accountants program. "I have various business backgrounds along with the golf side. The people here have been very welcoming which has made it easier to adjust and settle in."
Dern noted southern Albertans are spoiled with their earlier golf seasons thanks to the warm chinooks compared to where he has come from. The first official day of the 2015 gold season at the Taber Golf Club was March 20, but was delayed a couple days with a dump of snow earlier last week.
"It has been a little bit of a challenge with the early start and my late arrival getting into the position. We are still working through some things with the stock and the merchandise and getting the ground work set for the day-to-day stuff," said Dern. "For the most part, Winnipeg would be around the third week of April (for the start of the golf season). And the last two years we were into early May due to the late spring weather."
Whenever a golf enthusiast can get onto the links across Canada, Dern added the game has its own special appeal whether you are your weekend hacker or more advanced golfer.
"I think it's the personal challenge. It's not like team sports, where you can have an off day and someone else can pick you up. When you are out there playing in a tournament or a normal round of golf, it's a good test of your self. There's not a lot of people in the grand scheme of things that break 100 in golf," said Dern. "There's that mental strength and your ability to bounce back. You can get a bad break on a good shot or land your ball where it shouldn't be. It's very much that mental test and how much will you have to get through it. And even in the general industry, you can meet a lot of interesting characters and great people along the way. You can also go to a lot of places other industries don't. Golf makes it very easy to travel if you want to."
The plan for the Taber Golf Club is to look into some new programs to get additional people into golf.
"The plan is to be a lot more active on the Web site and on Twitter," added Dern. "We're trying to have more presence there where people have the information at their finger tips," said Dern.