Rebels girls zoned in for banner
Posted on March 18, 2015 by Taber Times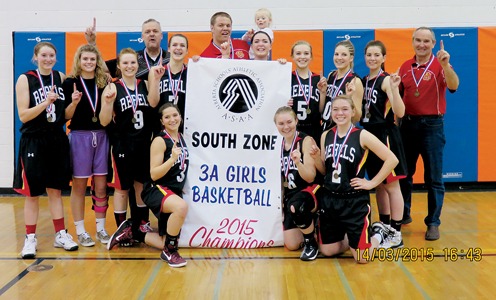 Times photo submitted
By Greg Price
Taber Times
gprice@tabertimes.com
W.R. Myers Rebels varsity girls basketball team are heading into provincials as hosts with plenty of momentum, having won the 3A south zone banner this past weekend at Winston Churchill.
The Rebels dominated the Magrath Pandas 85-54 in the zone championship game. Natalie Hoyt went off with 35 points to power the Rebels. Katessa Gross poured in 23 points and Millay Johnson chipped in 14. Hayley Lepard hauled in 11 rebounds.
"The girls were very excited about this game. Magrath is a great team, but we knew that the last couple of times we played them we didn't play very well so we wanted to show that we were better than we had played in the past," said Kenney Wood, head coach of the W.R. Myers Rebels varsity girls basketball team. "The first half we were only up by six and we knew we had to come out in the third and force our game on them. Thirty-five points was quite a feat, that really broke the game open and took the wind out of the Pandas. Brandon, Marty and myself had always talked about what would happen if we had a couple girls have a break-out game. We have a number of girls that can put up a lot of points pretty quickly and we saw the result of that this game."
It was dominance the Rebels showed all weekend long as W.R. Myers demolished Willow Creek 70-23 in its opening zone game.
Gross had 15 points and Sadie Lund pulled the double-double of 13 points and 13 rebounds along side Lepard's 10 points and 10 rebounds. Megan Jansen had 10 points and Johnson chipped in nine points and 11 rebounds.
"It was a great warm-up game to get ready. I had full confidence that we would control the game from start to finish. We were able to work on a number of defensive and offensive sets and get some bugs worked out."
The Rebels girls earned a trip to the zone championship by defeating Winston Churchill Griffins 71-34.
Hoyt hit for 17 points and Wood and Gross each had 13 points apiece. Lepard was a monster on the board, gabbing 20 rebounds. Johnson had eight points and 10 rebounds to go with teammate Sadie Lund's seven points and seven rebounds.
"We were prepared for this rematch. They had beaten us by four during the season and for those that remember, they knocked us out of zones last year, so a little payback was in order. They have some taller girls and we had a great game plan which the girls ran to perfection," said Wood. "The theme of the game for us was up tempo. We knew if we pushed the ball and pressured their guards we would have a great chance. The first quarter really set the tone for the rest of the game. We never took our foot off the peddle. It was a great game and a great confidence builder to get ready for the final game."
The Rebels now get ready to host 3A provincials beaming with confidence from the weekend.
"As a coaching staff it was so satisfying to see the girls making basketball plays. We have a few set offensives that we run, but we are always telling the girls to look for opportunities inside of those offensives. They were able to see and take advantages of some mismatches and also took advantage of some defensive mistakes and got a few back door cuts," said Wood. "We played extremely well this weekend and are ready to take on whatever teams we face."
The Rebels go into provincials as the number-one seed and have a bye into the second round as the team will face off against the winner of the Chestermre/Morinville game at 11 a.m. on Friday. If the Rebels win they will play at 5 p.m. on Friday. The championship 3A provincial game will go at 6 p.m. on Saturday at W.R. Myers gymnasium.
Along with W.R. Myers, the rest of the provincial field includes St. Joe's, Bowness, Chestermere, Moriniville, Bert Church, Charles Spencer, Holy Rosary, Wetaskiwin, Edmonton Christian, Eagle Butte and Magrath.
Games go this Thursday starting at 11 a.m. until the championship game at 6 p.m. on Saturday at both Central and W.R. Myers gymnasium.