Rebels boys are 3A provincial bound
Posted on March 18, 2015 by Taber Times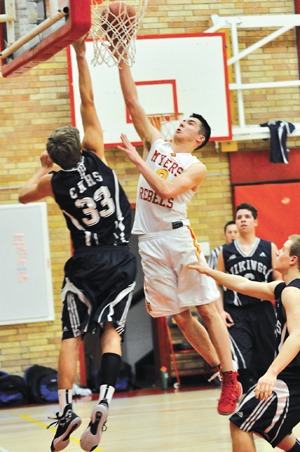 Times photo by Garrett Simmons
By Greg Price
Taber Times
gprice@tabertimes.com
A dominating offensive performance by Nathan Bennett helped propel the W.R. Myers Rebels varsity boys basketball team to the 3A zone banner on its home floor on Saturday.
The Rebels beat Eagle Butte 82-70 in the south zone championship final with the help of the hot hand of Bennett, who netted 50 points.
"It was his last game as a Rebel on our home court so it was just awesome to see. He walked into the gym about 90 minutes before the game and I asked him how he was feeling," said Greg Bowes, head coach of the W.R. Myers Rebels varsity boys basketball team. "I've coached Nate for three years now and he always says he's ready to go and is the ultimate competitor, but on Saturday I knew he was going to have a huge night by his response and his body language. He was fired up and wanted to lead his team to the title and that's exactly what he did. I was just happy to have a front row seat."
Bowes tipped his hat to the rest of the team as well as each of the players contributed at critical times during the championship run.
"The rest of the boys played their hearts out and we did a good job finding the hot hand and then crashing the boards and playing 'D'. Our bigs inside Lewis Leray and Marcus Andrus were monsters on the boards as usual and they combined for 16 points," said Bowes.
"And our guards had a shaky start, but responded well after the first quarter and did a good job limiting turnovers and moving the ball on "O". Overall it was a great weekend and a great championship for the boys."
The Rebels are now off to provincials in Fort McMurray, going in as the 10th seed.
"We are super excited for the opportunity to compete on the provincial stage for a third year in a row. We will be considered an underdog unlike the last few years but we are enjoying having all the pressure taken off of us and in the end it's not all about the wins and losses but the experience the boys will have and be able to take away memories of the week which they'll remember for their whole lives," said Bowes.