Midget Golden Suns set in playoffs
Posted on March 4, 2015 by Taber Times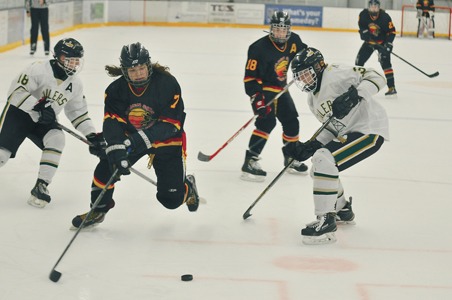 Times photo by Trevor Busch
By Greg Price
Taber Times
gprice@tabertimes.com
Taber midget "AA" Golden Suns still have some hockey left to play, but as far as the South Central Alberta Hockey season goes, the team bowed out of the playoffs.
Coming off a thrilling playoff series with the Lethbridge Hurricanes in which each game was decided by one goal, the Golden Suns were swept by the Okotoks Oilers in a very quick turnaround to the next series.
The Golden Suns traveled to Okotoks on Friday and fell 5-2.
Austyn Moser and Dylan Heppler scored for the Golden Suns who got assists from Justin Tams, Ryan Tessemaker and Brandon Langridge.
Dylan Swanson took the loss in net, facing 35 shots on goal. Taber midget Golden Suns' SCAHL season concluded on Saturday afternoon with a 6-2 loss at the Taber Arena.
Moser and Nick Badura scored for the Suns. Tessemaker, Moser, and Logan Middleton drew assists. Swanson took the loss in net, facing 49 shots.
While the Taber midget "AA" Golden Suns were eliminated from the playoffs, the team's playoff run including one of the most thrilling three-game sets in SCAHL history against the Lethbridge Hurricanes.
The Golden Suns advanced against the Oilers by dispatching the Lethbridge Hurricanes 4-3 in double overtime on the road last Wednesday. The series included two overtime wins by the Suns with the third game being decided by a mere goal as well in regulation.
Jedd Horvath scored the game winner, one of his two goals in the game with Heppler and Langridge notching singles. Moser, Middleton and Tams recorded assists.
"It was standing room only in that one," said Duane Nevil, head coach of the Taber midget "AA" Golden Suns. "We had the same game plan until we couldn't break that down rolling that high guy in and pressing it down low. Everything was down low and we worked it well (last Wednesday). They just had to trust themselves and keep working. We outplayed them in the third where we hit a crossbar and Heppler had three good chances by himself. We completely out played them in the third and it was a wear-down period."