Eagles pluck peewee Suns out of playoffs
Posted on March 4, 2015 by Taber Times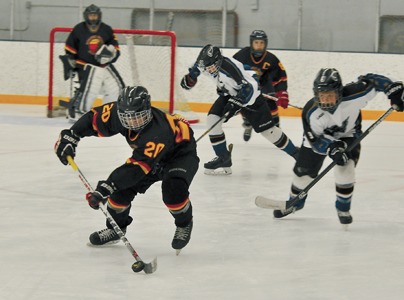 Times photo by Greg Price
By Greg Price
Taber Times
gprice@tabertimes.com
The season has set for the Taber peewee "AA" Golden Suns, as the Cranbrook Eagles swooped in on them to sweep its third round South Central Alberta Hockey League series.
The third-ranked Suns visited the south second-ranked Eagles on Friday and dropped an 8-5 decision, as the Suns dug themselves a 4-0 hole they could not get out of to start the game.
Kolby James had the hat trick and Derrien Tonin and Quade Hughson had singles. Tonin also drew two assists and Hughson, Kalem Haney and Cash Regan had single assists.
Brayden Peters took the loss in net, facing 24 shots.
Taber peewee "AA" Golden Suns ended its season at home with an 8-3 loss to the Eagles on Sunday at the Taber Arena. The game was tied heading into the third period where the Eagles scored to five unanswered goals.
James scored twice more and Tonin had a single. Haney and Tristan Miller each had two assists apiece and Regan and Hughson both had single assists. Peters took the loss in net, facing 38 shots on goal.
"They (Cranbrook) are a very good team that is very deep. We hung with them and the level of play was a lot closer than the scores indicated," said Clark Hughson, head coach of the Taber peewee "AA" Golden Suns.
"It was a battle for sure, but we couldn't seem to get any breaks. The first game, I think we hit three or four posts or crossbars and on Sunday we hit a couple of posts and they seemed to bury their chances. A rebound would go right onto their stick."
Taber peewee "AA" Golden Suns had advanced to the next round in the playoffs against the Eagles earlier, by dispatching the Foothills Bisons 9-6 in the deciding third game last Tuesday.
James, Hughson and Gerret Harty all had two goals apiece and Carson Haynes, Blake Kondor and Regan had singles.
Hughson and Regan had two assists apiece with Tonin, Harty, and Haney getting single helpers.
"I was happy with the year. Of course we didn't reach our goals, but I was happy with the kids. They worked hard and they learned a lot," said Hughson of a peewee Suns squad that will have all but five players graduating into the bantam ranks.
"They were a good group of kids, actually they were a great group of kids. They battled hard, but sometimes you need a few breaks here and there in the game of hockey. We had a good season and hopefully the kids learned a thing or two."