Peewee Suns split two
Posted on February 25, 2015 by Taber Times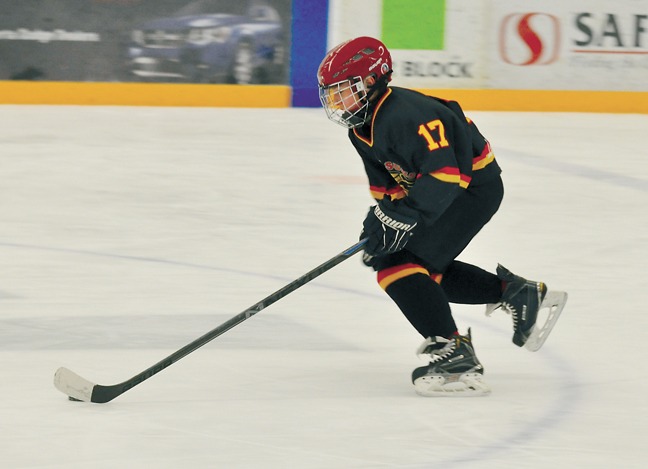 Times photo by Greg Price
By Greg Price
Taber Times
gprice@tabertimes.com
It all came down to Tuesday's contest as the Taber peewee "AA" Golden Suns split its first two games of its opening South Central Alberta Hockey League playoff series with Foothills Bisons.
Taber peewee "AA" Golden Suns won its opening game 5-3 at the Taber Arena on Saturday afternoon.
Kolby James tallied twice and Tristan Miller, Derrien Tonin and Quade Hughson had singles. Tonin also drew two assists along with Gerret Harty. Hughson, Colby Garner, Nolan Price and Cash Regan getting single assists.
Brayden Peters earned the win in net for the Golden Suns, facing 32 shots on net.
Taber peewee "AA" Golden Suns tried to close the series out on Sunday, but were unable to in a 3-2 loss on the road to the Bisons.
Down 3-0 in the game, the Suns mounted a furious comeback that just fell short with goals by Carson Haynes and Tonin. Price and Hughson drew assists.
Peters took the loss in net, facing 28 shots on goal.
"We've ran into a hot goalie both games. Even in our first game that we won, we outshot them pretty bad," said Clark Hughson, head coach of the Taber peewee "AA" Golden Suns. "On Sunday we outchanced them pretty badly, with lots of quality chances and a couple of posts we hit. We couldn't seem to catch any breaks and they got a couple of lucky ones including one going off our sticks."
Tuesday's results in the deciding game were unavailable at press time, but Hughson and the rest of the Taber peewee "AA" Golden Suns coaching staff told the boys to keep doing what they were doing where hopefully the luck would even out.
"We have to stay the course and keep working hard and the bounces will come," said Hughson.
The peewee Golden Suns have been dealing with some illness sweeping through the ranks and leading scorer in the regular season Kalem Haney being out of the lineup along with some of the tough bounces the team has had to endure this opening round of playoffs.
"We got people working hard and that's all you can control. You can't control the refs and you can't control the bounces, but you can control your effort," said Hughson. "We're down a few bodies with some kids not feeling too good, but I think we are on the mend. Our top scorer (Haney) has been out quite awhile, but hopefully he will be back (yesterday). If a little bit of that luck goes back our way, I think we will be fine."