Peewee 'A' Oil Kings bow out of league playoffs
Posted on February 25, 2015 by Taber Times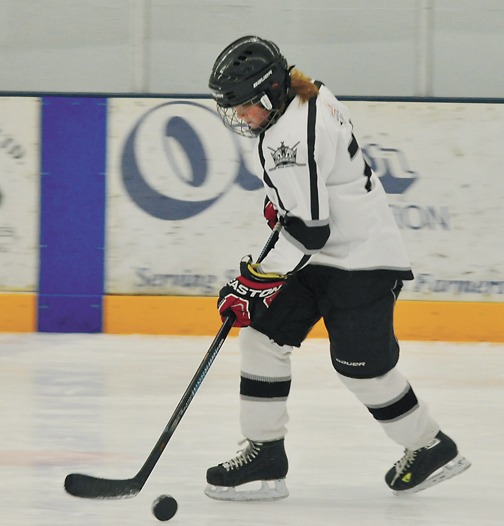 Times photo by Greg Price
By Greg Price
Taber Times
gprice@tabertimes.com
Taber peewee 'A' Oil Kings fell in the first round of its minor hockey playoffs, dropping both of its games to Coaldale.
Saturday's tilt in Coaldale had a 9-4 score.
Scoring for the Oil Kings were Cody Stange with two goals and Carter DeBoer and Josh Verloop with singles.
Max Nevil drew an assist.
Sunday's game in Taber was a 7-5 loss.
DeBoer, Stange, Brylan Span, Jayce Jensen and Carter Hendricks scored for Taber.
Nevil drew two assists and Stange, Hendricks, Trey Halvorson and Joey Fabbri had single helpers.
Taber peewee 'B' Oil Kings split its two games in minor hockey action.
Saturday was a 5-2 loss to Crowsnest Pass.
Michael Stronge and Jacob Hardy each had goals. Jesse Andrus, Carson Komery and Brayden Kaye all had assists.
The team bounced back with a 3-1 win over Pincher Creek.
Byron Kress had two goals and Ty Fitch rounded out the scoring with a single. Cassidy Phillips had two assists and Komery had one.
BANTAM: Taber bantam Oil Kings lost 4-2 to Foremost in an exhibition game on Sunday.
Ryan Hubble and Ryan Hewitt each scored for the Oil Kings who got assists from Ryan Mankow and Braxton Kinniburgh.
NOVICE: Taber novice 1 Oil Kings earned two wins over the weekend.
The first was an 11-4 win over Kainai on Saturday morning.
Kade Duell had four goals and five assists in the win and Carson Love had a hat trick.
Hunter Damberger had two goals and an assist and Jessica Turgeon and Jaxson Coutts each notched singles. Evan Untereiner and Owen Ruggles each had assists.
Sunday's contest was a 12-7 win over Foremost.
Duell had four goals and Coutts, Love and Jensen each had two goals apiece. Wieler Krahn had a single. Untereiner drew an assist.
Kahil Wright earned the win in net.
Taber novice 2 Oil Kings finished off its last two regular season games of the season, starting off with a 4-4 draw with Pincher Creek on Saturday.
Nathan Planger scored all four Oil Kings goals and Evan Koizumi preserved the tie in net.
Sunday's tilt was a 10-4 win over Raymond.
Planger had the hat trick to go with two assists. Koizumi and Tage Jensen each had two goals apiece. Zachary Fehr had a goal and an assist. Rex Bell and Damian Beswick each had a goal apiece. Sam Tolsma and Devan Loewen each had assists. Kayden Kress earned the win in net.
INITIATION: Taber initiation 2 Oil Kings earned a 13-6 win over Coaldale Cobras in Taber on Saturday.
Konnor Wiebe, Lincoln Weiss, and Avery Remfert each had hat tricks. Roman Capner had two tallies and Ayden Umbach and Lincoln Wiebe had singles. Weiss, Capner, Konnor Wiebe, Raiden Koizumi and Maizie Skiba drew assists.