Dupont rink earns top ladies spot
Posted on February 18, 2015 by Taber Times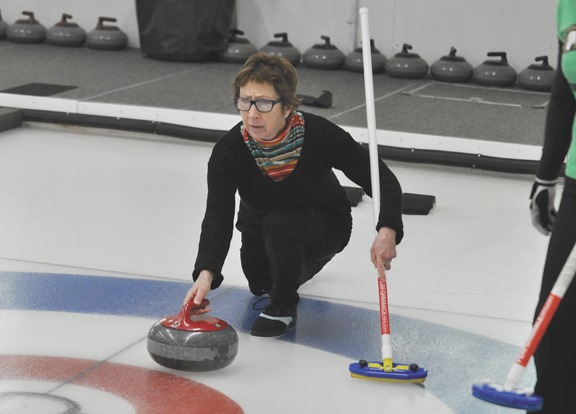 Times photo by Trevor Busch
By Greg Price
Taber Times
gprice@tabertimes.com
There were 20 teams that participated in the Taber Ladies Bonspiel earlier this month at the Taber Curling Club, as the festivities included 2015's theme being 'Prom.'
First event champions was the Lethbridge rink of Nanette Dupont, Lisa Friesen, Kendra Nakagama and Brenna Draper. Second for the first event was Lace Dupont, Val Leahy, Shirley Kohuch and Morgan Staples. Third place in the event was Taber's Mae Kanomata, Patti Ferguson, Cindy Kanomata and Bonnie Turcato. Fourth place in the first event was earned by the Taber rink of Carol Hooge, Terry Beers, Bev Mikalson and Lindsay Fletcher.
Second event featured Vauxhall rinks with the champions being the rink of Carol Lien Jones, Jo Lien Jones, Anne Cazemier, and Karen Dunsmore. Second in the second event belonged to Cindy Kurek, Helen Reynolds, Barb Crowson, and Laurel Friesen. Third place in the second event was the Medicine Hat rink of Colleen Hawes, Michelle Trlus, Monica Westerhoud and Laurel Lund. Fourth place in the second event belonged to the Warner rink of Joan McKenzie, Janet Nunweiler, Janice Racz and Sharon Coleman.
Third event champions for the Ladies Bonspiel were the Fort Macleod rink of Judy Walde, Gloria Moore, Corrine Mullen and Sharon McCulloch. Second in the third event was earned by the Taber rink of Elsie Sasaki, Wendy Arnold, Donna Weiss and Elisha Willis. Coming in third place was the Taber rink of Andrea Makarchuk, Fran Pickerell, Kelsi Dell and Shannon Clarke. Fourth place was the foursome of Taber's Cathy Fisher, Kelly Barany, Vicki Koersen and Connie Gross/Deb Sargeant.
Voted best prom-dressed team was Joni Leduc, Carol Perrett, Krista Douglas, Aimee Hughes and Pam Hughes. Players ranked from all over southern Alberta including Taber, Vauxhall, Medicine Hat, Fort Macleod, Lethbridge, Warner and Calgary.