Rebels girls dominate at home
Posted on February 12, 2015 by Taber Times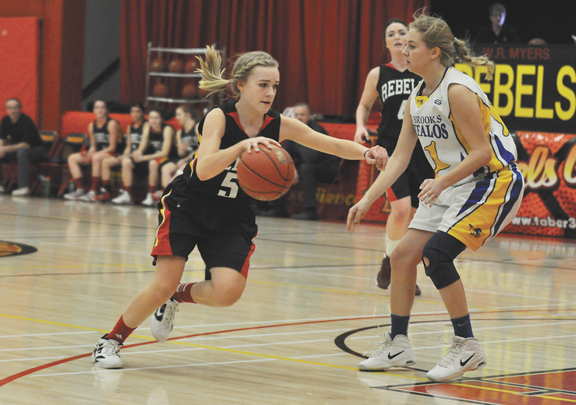 Times photo by Trevor Busch
By Garrett Simmons
Southern Alberta Newspapers
gsimmons@lethbridgeherald.com
The beat goes on for the W.R. Myers Rebels girls basketball team.
Now 18-0 on the season, the Rebels put a bow on another undefeated week with a tournament title in the Rebels Classic on the weekend.
Taber defeated the Stirling Lakers 49-35 in the final, as the Myers defence put the clamps on the visitors, and stretched a 22-20 halftime lead into a 14-point win.
Millay Johnson's 15 points and six rebounds, and a huge game from Katessa Gross 16 points, eight rebounds, five steals, propelled Taber to victory, as Hayley Lepard collected nine rebounds and six assists and Sadie Lund hauled in eight rebounds.
"Stirling played us very tough," said Rebels coach Kenney Wood. "Fundamentally, they are great. We had to work hard every moment."
He added the first two quarters especially were tough.
"Stirling played very solid defensive and we struggled a bit in our scoring," said Wood. "Our defensive, as usual, kept us in the lead."
It wasn't long after play resumed when Myers began to pull away.
"The third quarter was a great one for us," said Wood. "Our shots started to drop and we really stepped up our defensive pressure. We held them to four points and we scored 16. That 10-point lead going into the fourth quarter was huge. All the girls worked hard. Some play lots of minutes and some play just a few but they all give the team 100-per-cent effort when they are on the floor."
It wasn't much of a battle in the tournament opener, however, as Myers hammered Brooks 70-12, at Natalie Hoyt had 14, Megan Jansen added 11 and Paige Wood scored 10 points.
"Almost everyone got on the score board and everyone got some rebounds," said Wood. "Brooks had a difficult time handling us on both ends of the court. Defensively, we really shut them down and offensively, they could not handle our speed."
The Rebels handled the Bert Church Chargers 72-53 in the next tournament game, as a 39-19 lead at the half more than stood up for the home side, as Lepard's 27 points led the way. Hoyt added 15 and Johnson chipped in with 10 points and five rebounds. Gross had seven rebounds and Lund collected five boards.
"We came out really strong and got up by 10 in the first quarter," said Wood. "Bert Church played a very physical game and we had to work hard to hold the lead. They worked really hard right to the end but they couldn't keep up with our scoring and our defensive pressure really gave them trouble. We had lots of steals which we converted into points."
It all added up to a very successful tournament, according to the coach, which should prepare his team for provincials, where home court will hopefully be a huge advantage once again.
"The fan support was fantastic," said Wood. "The stands were full for all of our games. All the other teams that come to a classic love the atmosphere. Comments like, 'It's very exciting to be involved in games like these,' is a common theme that we hear all weekend long."
The tournament win was only part of the story, however, as Myers also managed a rare feat in league play, as the Rebels took down Raymond 54-41. Taber held a slight 29-26 lead at the half and stretched it to 43-36 after three quarters, as the Rebels once again used a slide defensive gameplan to shut the door in the fourth.
Johnson's 20 points led the way, while Hoyt added 14 and Wood collected 10 points. Lepard had 11 rebounds and Lund grabbed eight boards in a huge win for the Rebels.
"It's been a number of years since we have beaten Raymond," said Wood, who added the JV team also won. "It was a battle from start to finish. It was a very physical game and we had to fight for every point. Rebounding was very difficult — Raymond plays very aggressively and we had to box out and make sure once we got the rebound that we held on to it."