Victories keep coming for Rebels girls
Posted on February 6, 2015 by Taber Times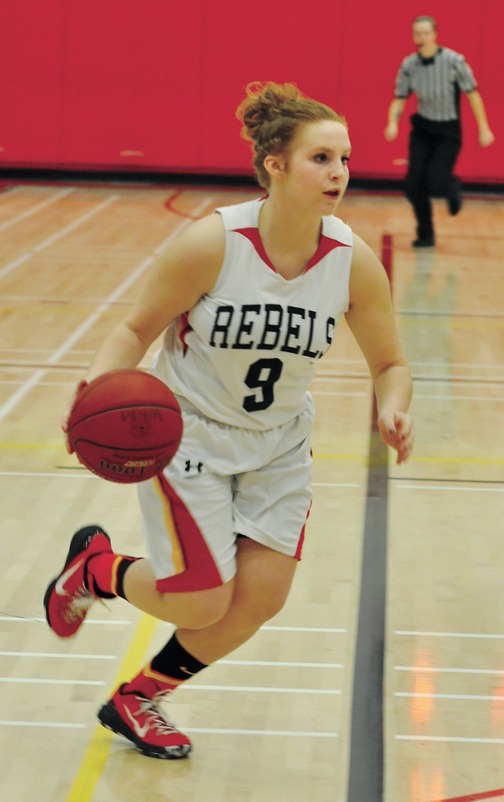 Times photo by Greg Price
By Greg Price
Taber Times
gprice@tabertimes.com
The solid season for the W.R. Myers Rebels varsity girls basketball team continues as the squad reeled off its 14th straight win.
Provincial 3A powerhouses in the Magrath Pandas and Rebels, according to the Alberta Schools Athletic Association rankings, squared off last Wednesday with the Rebels taking the contest 51-37 at home, doubling its half-time lead of seven points at half-time.
"We came out quite strong and got up 10 points by the end of the first quarter. We struggled a little in the second quarter, but held on to the lead," said Kenney Wood, head of the W.R. Myers Rebels varsity girls basketball team. "It was a very low scoring game, we'd been off for two weeks and with this being our first game back, we were a bit rusty. Defensively we played extremely well, holding Magrath to their lowest scoring game of their season."
Hayley Lepard scored 13 points to go with nine rebounds and five steals. Natalie Hoyt hit for 13 points and Millay Johnson chipped in 10. Katessa Gross and Paige Wood both had five rebounds.
Friday's tilt featured a dominating 65-33 win over Kate Andrews Pride at home on Friday night.
"Brandon, Marty and I spoke a lot to the girls about keeping focused and to play hard. Kate Andrews is having a tough time this year getting wins in the league, but we still had to be ready to compete," said Wood. "We came out quite strong in the first half and got up by 25 at the half. We had some terrific offensive rebounding by Sadie and Chelsea."
Lepard poured in 17 points and had five steals. Gross scored 11 points and Taylor Moser chipped in nine. Sadie Lund was the team's top rebounder with eight. Chelsea Hubble grabbed six boards and Johnson five. Hoyt had five steals.
The Rebels continued its homestand on Tuesday against the Raymond Comets with results unavailable at press time.
The Rebels host its Rebel Classic basketball tournament this weekend.
REBEL YELL: The Rebels girls look to have a homecourt advantage this year as the support has not gone unnoticed by coach Wood this year.
"Fan support this year has been awesome, the Magrath game the bleachers were almost full. It sure adds some excitement to the game and the girls really love it," said Wood. "We even had the fans cause a couple of turnovers due to them giving the other team a false count down on the shot clock."