Bantam Oil Kings take two
Posted on February 6, 2015 by Taber Times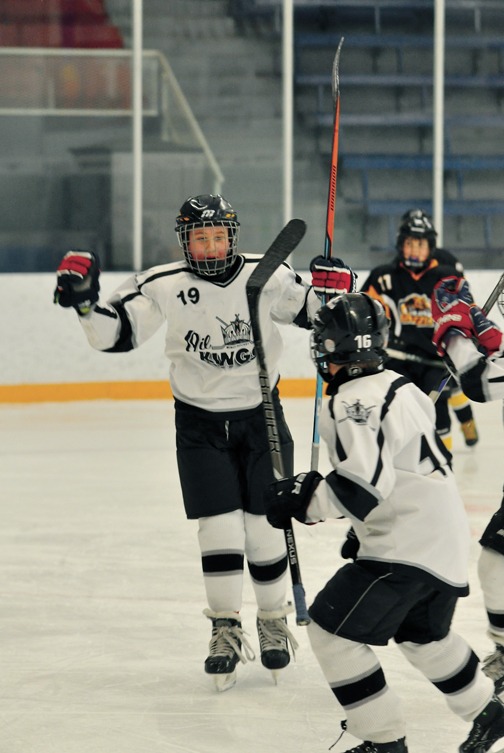 Times photo by Greg Price
By Greg Price
Taber Times
gprice@tabertimes.com
Taber bantam Oil Kings earned two victories in its games over the weekend.
The first was a 7-3 win over High Country on Friday.
Ryan Hubble notched two goals and Cal Kinniburgh, Ryan Hewitt, Ryan Mankow, Rory Murphy, and Spencer Phillips had singles. Phillips, Dallas Bodnar, Kinniburgh, and Murphy all had two assists apiece with Dawson Hendricks, Eric Loewen and Mankow getting single helpers.
Sunday's game was a 6-1 win over Hussar.
Mankow scored twice and Hewitt, Hubble, Darian Hardy and Gage Wiebe each had singles. Braxton Kinniburgh, Bodnar, Evan Harkness, Hendricks, Cal Kinniburgh, Brady Howg and Murphy drew assists.
PEEWEE: Taber peewee 'A' Oil Kings dropped a 6-2 game to Coaldale on the road on Sunday.
Max Nevil scored both Oil Kings goals with an assist from Joey Fabbri.
Taber peewee 'A' Oil Kings have a crucial stretch of upcoming games Feb. 4-8 to conclude its regular season including home games at 5:30 p.m. against Medicine Hat on Saturday and an 11 a.m. game on Sunday against Okotoks. The top four teams continue on in the playoffs where the Oil Kings are currently tied for fourth.
ATOM: Taber atom "A" Oil Kings had a busy weekend of hockey with three games, recording a 1-2 record in the process.
In a provincial playdown game, the Oil Kings dropped an 11-8 contest on Friday.
Nathan Verloop had six goals to go with an assist. Connor Eldridge tallied twice.
Kyler James drew two assists and Rylan Millo, Kole Reynolds and Walker Skiba all had single helpers.
Saturday's tilt featured a 7-6 win over Olds.
James and Zachery Hauck each had hat tricks. Verloop had a goal to go with five assists. Millo had two assists with Skiba, Matteo Blasetti and Cooper Ross getting single assists.
In a league game on Sunday, the Oil Kings lost 5-2 to Chestermere.
Verloop scored both Oil Kings goals.
NOVICE: Taber novice 1 Oil Kings won both of its games over the weekend, starting off with a 10-8 victory over Irvine on Saturday at home.
Kade Duell had four goals and two assists. Carter Jensen had the hat trick and Carson Love had a single.
The Oil Kings then went on to trounce Foremost 17-4 on Sunday.
Duell had four goals and four assists. Love recorded four goals and one assist. Jensen and Wieler Krahn each had two goals apiece.
Jaxson Coutts had the hat trick and Tyson Church and Vance Kramer each had singles. Hunter Damberger drew an assist. Kahil Wright took the win in net.