Novice Oil Kings teams earn victories
Posted on January 28, 2015 by Taber Times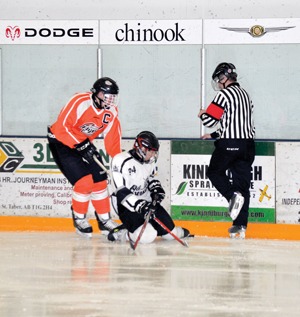 Times photo by J.W. Schnarr
By Greg Price
Taber Times
gprice@tabertimes.com
Both novice Oil Kings were in minor hockey play this past weekend with Taber Novice 1 Oil Kings earning a tie and a win.
The tie came against Picture Butte Blades 6-6, on Saturday.
Kade Duell had four goals and two assists. Carter Jensen had two goals. Hunter Damberger, Wieler Krahn, Vance Kramer, Tyson Church and Owen Ruggles recorded assists.
Sunday's tilt was a 14-9 win over Kainai.
Duell had four goals to go with five assists. Jensen and Kramer each potted hat tricks. Jaxon Coutts had two goals and Damberger and Carson Love each scored singles. Jessica Turgeon recorded two assists and Kramer and Krahn each had single helpers. Kahil Wright earned the win in net.
Taber Novice 2 Oil Kings split its pair of games, starting off with a 6-4 win over Cardston on Saturday on the road.
Nathan Planger had the hat trick and rounding out the scoring with singles were Zachary Fehr, Kayden Kress and Devan Loewen. Tage Jensen had an assist. Rex Bell earned the win in net.
The team then fell 8-6 to Pincher Creek on Sunday.
Planger had another hat trick and Bell, Jensen and Shaylee DeBona had singles. Evan Koizumi, Langdyn Cummins, Damian Beswick and Loewen all had assists.
INITIATION: Taber Initiation 1 Oil Kings earned an 18-5 win over Coaldale on Saturday.
Chase Stronge, Nixen Miller, Heston Hansen, Maxwell Anderson and Jaida Peters had hat tricks. Cruz Duell had two goals and Ryler Kiss notched a single.
ATOM: Taber Atom 'A' Oil Kings won both of its home league games this past weekend.
The first was a 10-4 victory over Chestermere on Saturday.
Zachery Hauck had the hat trick to go with four assists and Nathan Verloop also recorded the hat trick to go with three assists. Connor Eldridge had two goals and an assist. Rylan Millo had a goal and an assist and Kyler James recorded a goal.
Sunday's tilt was a 9-6 win over Airdrie.
Verloop had four goals to go with two assists and Hauck had two goals to go with four assists. Millo and James each had one goal and two assists. Eldridge rounded out the scoring with a single. Heath Hansen and Kole Reynolds drew assists.
PEEWEE: Taber Peewee 'B' Oil Kings played Bow island twice with a loss and a tie.
Saturday's tilt was a 3-0 loss with Sunday being a 2-2 tie.
Byron Kress had a goal and an assist. Michael Stronge had a goal and Logan Kromm had an assist. Talen Damberger had a solid game in goal to preserve the tie.
Taber Peewee 'A' Oil Kings skated to a 6-3 win over Medicine Hat on the road last Tuesday.
Cody Stange had the hat trick and one assist. Carter DeBoer helped the winning cause with two goals and two assists. Jayce Jensen also scored. Darci Wright drew two assists with Max Nevil getting a single helper. Blake Van Beers earned the win in net.
BANTAM: Taber Bantam 'A' Oil Kings split a pair of games over the weekend.
On Saturday, the team beat Hanna 7-4. Dawson Hendricks had the hat trick and Evan Harkness, Matthew Jensen, Ryan Hewitt and Ryan Hubble had singles. Jensen and Spencer Phillips each had two assists apiece. Hubble, Hewitt, Eric Loewen, Harkness, Brady Howg, Walker Ross and Darian Hardy had single helpers.
Sunday's contest was a 6-5 loss to Hussar.
Hendricks, Hardy, Loewen, Hewitt and Gage Wiebe scored for the Oil Kings. Hubble and Jensen recorded assists.
MIDGET: Taber Midget Oil Kings were edged 5-4 by the Thrashers on Saturday.
Scott Loewen tallied twice for the Oil Kings with Kevin Turner and Colten Gorda getting singles. Turner and Gavin Hoskins drew two assists. Logan Kiss and Cameron Mack had single helpers.