Initiation teams earn wins at home tourney
Posted on January 21, 2015 by Taber Times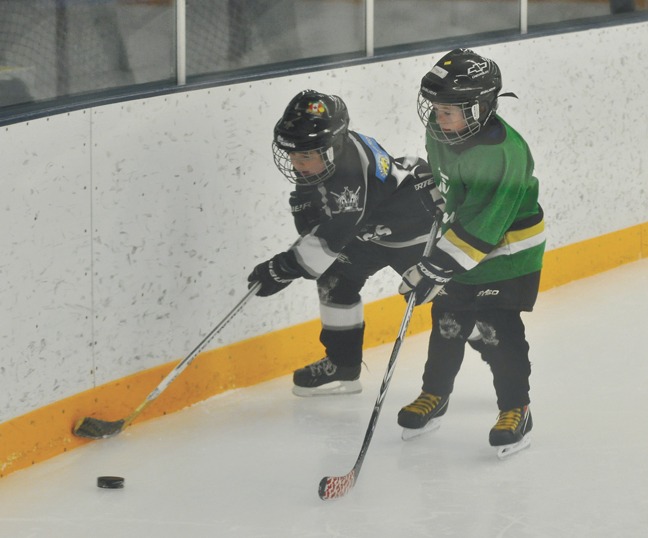 Times photo by Greg Price
By Greg Price
Taber Times
gprice@tabertimes.com
Initiation Oil Kings teams had its home tournament over the weekend at the Taber Arena with Initiation 1 Oil Kings winning all three of its games.
The first was an 11-7 win over Lethbridge Tigers on Friday.
Chase Stronge, Nixen Miller and Maxwell Anderson all had hat tricks. Jaida Peters tallied twice.
The team went on to beat Strathmore Timbits 14-6 on Saturday morning.
Miller, Anderson, and Peters had hat tricks. Stronge had two tallies and Cruz Duell, Ryler Kiss and Heston Hansen had singles.
Taber Initiation 1 Oil Kings finished off with a 16-9 win over Medicine Hat Sharks on Sunday.
Peters, Anderson, Stronge and Hansen all had hat tricks. Miller tallied twice and Kiss and Lucas Kerkhoff had singles.
Taber initiation 2 Oil Kings won two out of its three games.
The Oil Kings' first game was a 10-6 loss to Chestermere Blue on Saturday afternoon. Lincoln Weiss had the hat trick and Konnor Wiebe had two tallies. Avery Remfert had a single.
The team bounced back with a 16-2 win over Lethbridge Tornados on Saturday night.
Wiebe, Weiss, Remfert and Roman Capner had hat tricks. Branson
De Vlieger and Ayden Umbach had two tallies.
Oil Kings finished its tournament run with a 14-2 win over Okotoks Penguins on Sunday afternoon.
Wiebe, Weiss, Remfert and Capner had hat tricks and James Ruggles and Umbach had singles.
NOVICE: Taber novice 1 Oil Kings earned a 7-3 win over Raymond on Friday.
Kade Duell notched four goals to go with an assist. Carter Jensen had two goals and Jaxson Coutts recorded a goal and an assist. Tristen Egeland recorded an assist. Kahil Wright earned the win in net.
Taber novice 2 Oil Kings were also victorious in their one game, a 4-2 doubling of Vauxhall.
Langdyn Cummins had two goals and Blake Rabusic and Sam Tolsma each had one goal apiece.
Devin Loewen and Damian Beswick each had an assist. Nathan Planger earned the win in net.
ATOM: Taber atom 'A' Oil Kings earned a tie and a loss in two Tier III road games over the weekend.
The first was a 4-4 tie with Drumheller on Saturday.
Nathan Verloop and Zachery Hauck each had a goal and two assists in the contest. Kyler James and Rylan Millo had singles. Luke Turgeon earned the tie in net.
Atom Oil Kings then dropped a 13-7 game to Olds on Sunday.
Verloop had three goals and three assists. Millo had a goal and two assists. Hauck, James and Skiba scored single girls.
PEEWEE: Taber peewee 'A' Oil Kings dropped a 10-5 decision to Coaldale on Sunday.
Jayce Jensen tallied twice and Josh Verloop, Cody Stange and Carter DeBoer had singles. Max Nevil and Stange both had two assists. DeBoer and Jensen had single helpers.
Taber peewee 'B' Oil Kings were able TO take a 12-4 win over Kainai.
Byron Kress led the way with the hat trick and three assists. Carson Komery also had a hat trick to go with two assists. Tye Fitch recorded two goals and three assists. Logan Kromm tallied to go with three assists. Michael Stronge had a goal and an assist. Luke Bell and Jesse Andrus rounded out the scoring with goals. Talen Damberger earned the win in net.