South peewee powers battle to tie
Posted on January 14, 2015 by Taber Times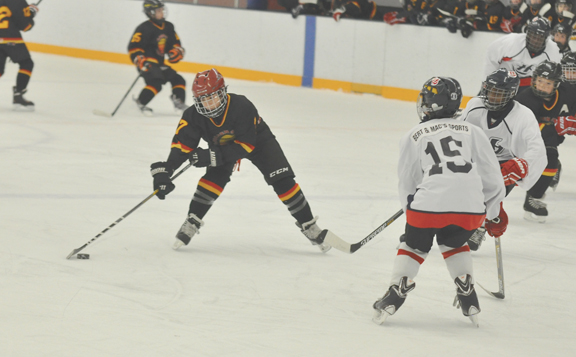 Times photo by Trevor Busch
By Greg Price
Taber Times
gprice@tabertimes.com
Sunday's tilt in South Central Alberta Hockey League play between the Taber peewee "AA" Golden Suns and Lethbridge Hurricanes White at the Taber Arena lived up to its billing.
The top two teams in the South Division at the time of the game in the Golden Suns (19-5-1) and the Hurricanes (21-1-2) skated to a 5-5 draw.
The Suns battled back from a 4-2 deficit two minutes into the third period to take a 5-4 lead, but then surrendered it with a mere seven seconds left on a 6-on-4 with the goalie pulled and the Hurricanes on the power play.
"It was a really good game that went back and forth. We had them with seven seconds left and they tied it up," said Clark Hughson, head coach of the Taber peewee "AA" Golden Suns."I think we definitely could have won."
Hughson had two objectives to victory before the game.
One was shutting down the Hurricanes' top line in Zack Stringer who has a whopping 101 points and 46 goals in 23 games along with Ridly Greig (97 points in 24 games) and Dawson Leroux (63 points in 24 games).
The Suns were able to do that for the most part with Stringer scoring a lone tally and the trio managing a combined five points despite a five-goal outing.
The other was to stay out of the penalty box to counteract the Hurricanes potent power play. The Golden Suns had its problems there, drawing eight penalties to the Hurricanes one, surrendering three power play goals in the process.
"We shut down their top line for the most part, their top player (Stringer) had one goal and it was a bit of a fluky one and that Greig kid didn't score. You look at their lineup and they do like 80 per cent of the scoring, you have to shut down that line for sure and hope the rest of our guys can hold their own and score some goals against some of the other lines," said Hughson.
"Even our shutdown line got us a goal and our other lines filled in with goals. It was fast paced with a lot of action. We took a few more penalties than I would have liked and that was the difference between a win and a tie."
Derek Tonin, Kalem Haney, Quade Hughson, Kolby James and Derrien Tonin tallied for the Suns. James, Derrien Tonin, Gerret Harty, and Cash Regan had assists for the Golden Suns. Outshot nearly 2-to-1 giving up a lot of power plays, Brayden Peters kept the Suns in the game facing 40 shots.
Perhaps looking too far ahead to Sunday's marquee match up, the Golden Suns stumbled against an Okotoks Oilers Green team (17-5-3) on the road on Friday night in a 6-2 loss.
Derrien Tonin and Blake Kondor scored for the Suns, who got assists from Haney and James. Peters faced 41 shots on net in the loss.
"I was a little disappointed with Friday's game. We got in penalty trouble there too (11 penalties resulting in four power play goals). We came out flat," said Hughson. "We really never had the wheels and the penalty trouble didn't help."
Wedged between the two games was a 13-0 shutout of the Southwest Rockies on the road on Saturday.
Derrien Tonin had the hat trick and Hughson and Nolan Price each had two goals apiece.
James, Derek Tonin, Tristan Miller, Harty, Haney and Colby Garner had singles. Haney and Derek Tonin each had three assists and Derrien Tonin, Kondor and Reagan each had two helpers. Carson Haynes, Miller, Garner, Carson Cleland, Price, Hughson, and Spencer Mehlen had single assists.
Blake Vaselenak earned the shutout with six saves.
Taber peewee "AA" Golden Suns have the weekend off with all-star festivities, but return to action with a road game against Southwest Rockies on Jan. 24 and a road game against Foothills Bisons on Jan. 25.
"We played Foothills once in a Lethbridge tournament and beat them there and played them once in Taber and beat them there. Foothills works hard, they are a pretty solid bunch," said Hughson. "But they don't have a lot of scoring."
BANTAM: Taber bantam "AA" Golden Suns skated to a 3-3 draw with Airdrie Lightning at the Taber Arena on Sunday afternoon.
Kole Fujita tallied twice for the Golden Suns and James Halverson had a single. Mason Sande, Kyle Hulit, Seth McCulloch, Kolten Heins, Hayden Mack and Halverson had assists.
Dalton Demers earned the tie in net, facing 23 shots.
Just before the all-star break, Taber bantam "AA" Golden Suns have a Friday tilt against Lethbridge Hurricanes on the road. The team returns home on Jan. 23 with a game against Bow Valley Timberwolves at 8:30 p.m. with another home game on Jan. 24 against the Lacombe Rockets at 3 p.m. at the Taber Arena.
MIDGET: Taber midget "AA" Golden Suns had a hard-fought weekend of SCAHL play, earning two ties and a tight loss.
Taber midget "AA" Golden Suns started off with a 2-2 draw against Lethbridge Hurricanes at the Taber Arena Friday night.
Austyn Moser and Justin Tams scored for the Suns along with both drawing assists. Brandon Langridge also drew an assist. Broc Merkl faced 35 shots on net to earn a tie.
The team then dropped a 3-2 decision to Foothills Bisons on the road.
Tyson Tessemaker and George Bertoia tallied for the Suns. Logan Wiebe, Mack Honess, Moser and Dylan Heppler drew assists. Dylan Swanson took the loss in net, facing 34 shots.
Taber midget "AA" Golden Suns ended its SCAHL weekend skating to a 2-2 draw with Lacombe Rockets on the road.
Heppler and Jedd Horvath scored for the Golden Suns. Moser drew two assists and Jedd Horvath one. Broc Merkl stood on his head to keep the Golden Suns in the game, facing 45 shots to preserve the single point in the standings.
Right before the all-star break, Taber midget "AA" Golden Suns travel on Friday to play the Okotoks Oilers. The team then travels on Jan. 24 to play the Medicine Hat Venom and then travel on Jan. 25 to play the CBHA Rangers in Calgary.