Muller qualifies for Canada Winter Games
Posted on January 14, 2015 by Taber Times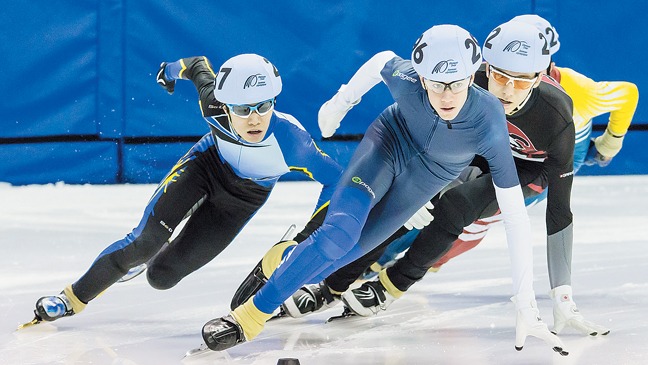 Times photo submitted
By Greg Price
Taber Times
gprice@tabertimes.com
Taberite Kaleb Muller is about to enter the largest stage of his young short track speedskating career.
Muller qualified for the Canada Winter Games by earning a spot on the Alberta team after accumulating enough points from two qualifying races in Calgary.
"There are three main distances you have to qualify for. The 500-metre is your PB (personal best) for the year. For the 1,000 and 1,500-metre there is a certain qualifier meet for them," said Muller. "If you got first you got 1,000 points and then the top 12 would make it to the second qualifier. You then try and get the best amount of points for each distance."
With the strength in points Muller accumulated in his first qualifying meet, it meant Muller had already secured a spot in the games, which made for a more relaxed second meet where he attacked the track.
"I was skating for fun because I already made it. I had much more fun, I wasn't nervous for any race because I already made it," said Muller of qualifying for the games in the junior category.
Skating in a group of 14 to 18 year olds, Muller knows he is going to be in tough being one of the younger skaters. Muller practices twice a week and goes up to Calgary for a week every month. At home, Muller does extensive dryland training.
"It's definitely going to be hard being one of the younger skaters. I like to start out fast because I know my endurance is better than some other people," said Muller. "It (speedskating) is kind of a part of me now. Everything I do involves speedskating in one way or another. This will be the biggest competition I've ever entered so I don't know what to expect."
The Canada Winter Games go Feb. 13-March 1 in Prince George, British Columbia.