Novice Oil Kings take two on the ice
Posted on January 7, 2015 by Taber Times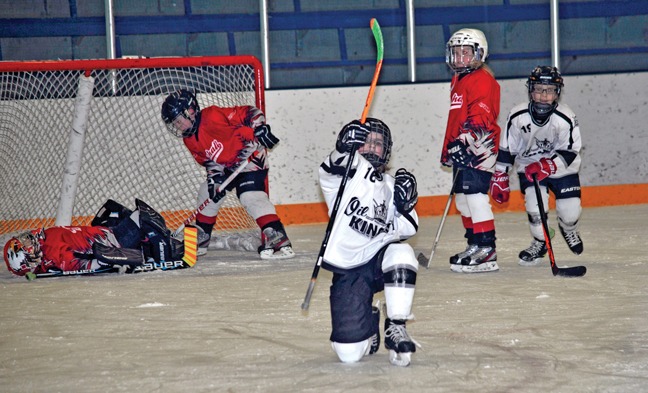 Times photo by J.W. Schnarr
By Greg Price
Taber Times
tbusch@tabertimes.com
Taber novice 2 Oil Kings won both of its games over the weekend in minor hockey play.
The first victory was an 8-2 win over Crowsnest Pass.
Sam Tolsma had the hat trick and Hayden Span recorded two goals to go with an assist. Evan Koizumi, Devin Loewen and Kayden Kress all had singles. Zachary Fehr earned the win in net.
The novice squad followed up with a 9-3 win over Vauxhall on Sunday.
Nathan Planger had the hat trick and Span had two goals to go with an assist. Rex Bell notched two goals and Koizumi had a goal and an assist. Tolsma rounded out the goal scoring. Langdyn Cummins and Tage Jensen recorded assists. Kress earned the win in net.
ATOM: Taber atom Oil Kings skated to an 11-5 win over Cochrane on Sunday in minor hockey competition.
Zachery Hauck led the way with six goals and two assists. Rylan Millo notched the hat trick to go with two assists.
Nathan Verloop recorded two goals to go with four assists. Kyler James had four assists and Matteo Blasetti had two helpers. Connor Eldridge had an assist. Levi VanBeers earned the win in net.
PEEWEE: Taber peewee 'A' Oil Kings split a pair of games over the weekend.
The first was a road loss to Okotoks on Saturday in a 7-5 decision.
Carter DeBoer potted two goals while Cody Stange, Josh Verloop and Max Nevil had singles. Brylan Span, Jack Murphy, Carter DeBoer and Verloop drew assists.
The team proceeded to beat High Country 10-4 at the Taber Arena on Sunday.
DeBoer scored five more times with Nevil tickling the twine twice. Stange and Jayce Jensen had singles.
Verloop, Span, Murphy, Stange, Jensen and Nevil also drew assists. Blake Van Beers earned the win in net.
The team is off to a tournament in Coaldale this weekend.
BANTAM: Taber bantam Oil Kings earned victories in both of its games over the weekend.
On Saturday, the Oil Kings beat Beiseker 5-2. Ryan Hewitt, Evan Harkness, Gage Wiebe, Rory Murphy and Ryan Mankow scored. Spencer Phillips drew two assists with Hewitt, Mankow, Wiebe and Walker Ross drawing single assists.
The Oil Kings proceeded to beat Okotoks on Sunday 7-2.
Hewitt tallied twice and Dawson Hendricks, Phillips, Harkness and Eric Loewen had singles.
Ross, Hendricks, Phillips, Mankow and Kyle Turner drew assists.